Lawrence facts, fantasy and films
Rodney Legg seeks T E Lawrence on stage and screen in search for clues as to what he was doing in 1935 and to unravel conjecture surrounding his fatal road traffic accident
Published in December '07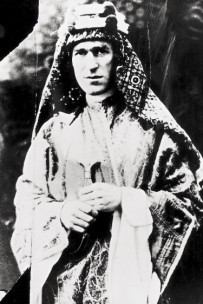 T E Lawrence dressed as a Prince of Mecca.
The Lawrence death-crash mystery, which I have been researching since 1968, maintains momentum, although without a crucial break-through to take it beyond being yet another conspiracy theory. There have been no Thirty-Nine Steps but something of a John Buchan nature appears to have been going on.
For inspiration I think of Antonioni's great classic, his film Blow-Up from 1967, with its disappearing body and momentary muzzled gun. Much evidence has since slotted into my jigsaw but key pieces are absent. What I found became the book Lawrence of Dorset: Arabia to Clouds Hill and additional contributions have come from researcher Yvonne Argent in Oxfordshire.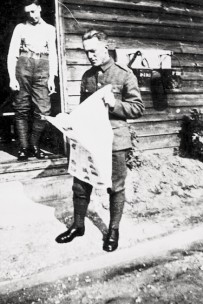 Private T E Shaw of the Royal Tank corps at
Bovington Camp.
The actor Dirk Bogarde confirmed in his 1971 autobiography, Snakes and Ladders, that he shared this life-long fascination with the Lawrence enigma and the 'still unexplained death on the lonely country road to Clouds Hill' between Bovington Camp and his tiny cottage home, towards Turners Puddle, which is now owned by the National Trust.
In 1958, Bogarde lost the opportunity to play the role of Lawrence in a film. It was, he wrote, 'my bitterest disappointment'. Although he admitted lacking any physical resemblance to Lawrence, 'I had never, in my life, wanted a part, or script, so much'.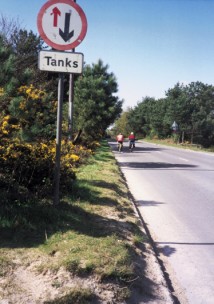 Cyclists at the crash site between Bovington and Clouds Hill
The film was based on Terence Rattigan's stage play Ross (one of the Lawrence pseudonyms), which starred Alec Guinness, and was to be directed by Anthony 'Puffin' Asquith. Herbert Wilcox had bought the film rights from Rattigan for £100,000. The film-makers were then given £750,000 by the Rank Organisation and King Feisal arranged free use of his army. Bogarde gave it 'total immersion' up to the moment when the plans were dropped by the Rank Organisation without explanation only a few weeks before shooting. 'Was it a matter of politics? Did someone somewhere object to the exposing of a very private man? Was the strange, still unexplained, ending to his life a forbidden area? The lonely road, a black car, two schoolboys, skid marks . . . was this a silence to be kept for ever? Or did someone know that the situation in the Middle East at that moment was to lead to the assassination of King Feisal, his heir and his Prime Minister, in the middle of July?'
Lawrence's brother and literary executor, Professor Arnold Lawrence, pressured the Lord Chamberlain to do all he could to tame the theatrical version – by insisting on deletion of the word 'sod' and any mention of illegitimacy – and condemned Rattigan's portrait of 'a weakling with a compensatory blood-thirst and other uncontrolled neurotic impulses'.­­
Oddly, Bogarde did not mention an obvious reason for Rank pulling the movie, which was that Hollywood mogul Sam Spiegel had bought the film rights to Lawrence's Seven Pillars of Wisdom and The Revolt in the Desert and had already signed up director David Lean and scriptwriter Robert Bolt. Spiegel was heaped with Oscars for Bridge on the River Kwai and toyed with the idea of Marlon Brando as T E Lawrence, though eventually Peter O'Toole stepped into his sandals.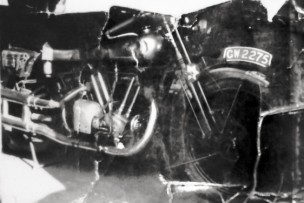 This photograph of Lawrence's Brough Superior is rather dilapidated but it does show the dents caused by the crash which killed its rider
No stranger to the newsreels, Lawrence once hoped to see himself portrayed in a feature film. That was back in the time of silent movies when with literary agent Raymond Savage he suggested the idea to a young Herbert Wilcox. In January 1935, however, a reluctant Lawrence lunched with 'Film King' Alexander Korda to dissuade him from taking on a glamorised portrayal of Lawrence's part in the Arab Revolt, as it threatened numerous 'inconveniences'. Korda agreed that it should not be attempted without Lawrence's consent.
After Lawrence's death, Siegfried Sassoon was commissioned to work on the scenario for a screenplay, although Henry Williamson of Tarka the Otter fame championed Robert Graves. They struggled with the sensitivities of sadism, sexuality and secrecy that surrounded the Lawrence legend. The way of his parting had also been in keeping with the enigma.
On the BBC Newsnight programme on 13 May 1985 – the fiftieth anniversary of the death crash – motor-cycle expert Ronald H Clark said that manufacturer George Brough himself had told him that black enamel paint was found on the inside of the offside handlebar. Clark demonstrated how it could have chafed or chased along the side of a black car and explained that there would have been sufficient space for this to happen provided the front brake had not been applied.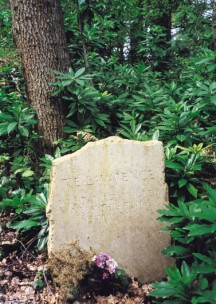 The memorial stone by the parking place near the crash site
As with the bike, the body was virtually intact, concealing the irreparable brain damage. The Arabist and Governor of Jerusalem, Sir Ronald Storrs, viewed Lawrence after morticians had prepared him for the afterlife. 'Beyond a few small scars, and a little discolouring of the left eye region, Lawrence looked handsomer and nobler than I had ever seen him. The nose was sharp as a pen, but more hooked and hawk-like than in life, and the chin less square. He was wrapped in white cotton wool, with a tight bandage around the forehead, and looser sheeting lower down.'
What Lawrence was doing, nationally and politically, has not been properly explained. Over the winter of 1934 he followed the progress of the Defence Requirements Committee. This comprised the triumvirate of Colonel Sir Maurice Hankey (Secretary to the Cabinet and also to the Imperial Defence Committee), Sir Robert Vansittart (Permanent Head of the Foreign Office) and Sir Warren Fisher (Permanent Head of the Treasury). They secretly worked on plans for British re-armament at a time when Viscount and Lady Astor and the social set meeting at Cliveden House still talked of Hitler becoming 'Europe's future policeman' and predicted – correctly though prematurely – that major aggressive tendencies would be reserved for Soviet Russia.
Colonel Richard Meinertzhagen's diaries tell us that Lawrence had been head-hunted to act as director-designate for a proposed amalgam of the nation's security services, including Military Intelligence, the Security Service MI5, the Secret Intelligence Service MI6 and Police Special Branch. There is also evidence from Lawrence himself, in a letter written to K W Marshall just five days before his accident, that something important was going to occupy his life from Friday week (17 May 1935): 'The noble weather and various causes have kept me outdoors from dawn till dark, and sent me dead-beat to bed immediately it was decent to sleep. But that ceases in ten days.'
Lawrence intimated in 1934 that he was being groomed to succeed Hankey as Cabinet Secretary, much as he claimed he was offered the position of High Commissioner of Egypt and the Sudan in 1924, but both notions were ridiculed by Vansittart in his memoirs, The Mist Procession: 'The appointment [Egypt] lay with Curzon. If Winston [Churchill] had ever foolishly proposed Lawrence I should have heard, for Curzon would have laughed him out of court, and the laughter would not have been kind.
Still more untruthful is the suggestion that anyone ever thought seriously of pushing out Maurice Hankey to let in Lawrence as Secretary of the Cabinet. Lawrence would have been fantastic in any high officialdom. Montagu Norman was mad enough to want the Prince of Mecca for Secretary of the Bank of England. Everyone was indeed potty about this flood-lit man, who deserved his Bath and Distinguished Service Order but nothing like apotheosis. What a gifted pair of poseurs Monty and TE would have made!'
Lawrence had Vansittart blood but between them ran the stigma of illegitimacy 'though "my people" did not talk about that. His grandmother Louisa Vansittart was all right, but of his Chapman father mine thought little, and nobody else thought at all.'
Sir Robert Vansittart was setting the stage for an Eastern Pact until the diplomatic initiative collapsed when its principal public proponent, French Foreign Minister Louis Barthou was shot and left to bleed to death when King Alexander of Yugoslavia was assassinated by terrorists on 9 October 1934.
There are clues as to what was being planned in May 1935. The fateful telegram which Lawrence sent on the day of his death was to Henry Williamson, who then wanted to fly to Germany himself, in place of Lawrence, to talk with Hitler. Mosely, however, entertained 'no such romantic feelings', according to his widow, Lady Diana Mosely. Robert Skidelsky quoted Williamson in his biography Oswald Mosely in 1975: 'If I could see him as a common soldier who had fraternised, on that faraway Christmas Day of 1914, with the men of the Linz battalion under Messines Hill, might I not be able to give him the amity he so desired from England, a country he admired?'
He planted the idea with Douglas Orgill, for a Daily Express article, that Lawrence might have emerged as Dictator of Britain 'as someone ineffably suggested to him in 1935′. Privately, to Rex Aylmer, Williamson saw Lawrence's death as the result of a Zionist plot, but when Dan Farson tried to tease this opinion out of him in a television interview he backed down: 'No, I don't think so. His bike went because his tyres skidded.'