From farmyard into garden — Broomhill at Rampisham
Chris Shaw and Colin Varndell visit the garden of Broomhill at Rampisham
Published in December '07
Turning a farmyard into a garden is not a project to be undertaken lightly, but David and Carol Parry at Broomhill have achieved it with style. They bought the property in 1972 but have only been gardening seriously, Carol told me, for the last dozen or so years. Her husband is quick to point out that she does all the gardening – he cuts the grass, ever-hopeful that another border will soon be made, thus reducing his mowing area!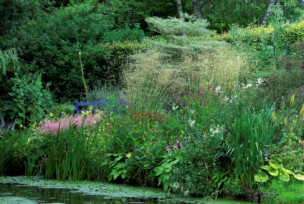 An explosion of colour at the water's edge
The garden slopes gently away from the house, down to a small lake. It is packed with interest yet still remains spacious. Cleverly positioned beech hedges provide shelter, break up the overall shape and encourage gentle meandering to see what is round the corner. At the beginning of July, it was colour at every twist and turn.
Closest to the garden entrance is a generous shrub bed, where different viburnums, mahonia, weigela, tree peony and weeping pear provide the structure behind big bold clumps of lilies, phlox, euphorbia and catmint; smaller sedums and geraniums are massed at the front. A bed this size needs filling. Covering the ground and smothering the weeds is sensible gardening – if the weeds do grow, you don't see them. A good clear-out in autumn, a cut back at the start of the new season, and the bed is ready to look good for several months again. The beauty of so many mature shrubs is that even in the winter, the garden remains interesting.
This bed is so large that a narrow gravel path has been provided to cut through the centre. It makes maintenance easier and also brings you into closer contact with the plants, where you can push between the overhanging foliage and release summer scents to add to the enjoyment. There are obelisks of clematis and sweet peas above hostas, scabious, and a froth of grasses which make a lovely contrast.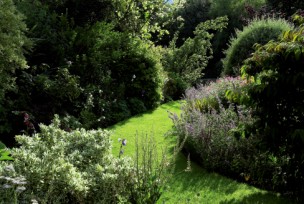 This is a garden to wander through and explore
Sheltered by a beech hedge and out of sight of the main garden is a bed planted with grasses, tall yellow verbascum and burgundy berberis. The contrasts in colour and leaf are eye-catching and demonstrate how much can be achieved in a very small space. Dainty violas edging the bed echo the main colour theme. Nearby, another shrub border has been planted up. Berberis darwinii has deep orange flowers which are followed by blue berries; a golden rhus catches the sun, as does leycesteria; dark elder is the contrast. Sprawling buddleias attract the butterflies and, where the bark-mulched ground still needs a little filling, ground cover roses are making themselves useful.
A mown path beyond here leads around the lake, which is overhung by willows and is full of water lilies. A magnificent pine spreads its branches over an area the size of some suburban gardens. At the far side of the pond, sheltered by the tall tree belt on adjoining land, is a seat where the view back to the house can be appreciated. There is a secluded seat, too, on the house side of the lake, tucked behind another curve of beech hedge. At the water's edge is an explosion of colour. Vivid scarlet poppies nudge purple verbena, and orange daylilies shout happily at the softer pink of astilbe. Over it all wave two or three clumps of Stipa gigantea. These golden oats can reach up to eight feet in height and, as well as looking beautiful against the light, they rustle gently and soothingly in the breeze.
Allium cernuum
The border along the bottom of the main garden is also packed with trees and shrubs. I noted spiraea and philadelphus still in flower, with shrub roses adding extra colour. There are roses, too, as you return up the lawn, including a hedge of Rosa rugosa, the vigorous species rose that makes an excellent screen and which has hips as big as cherries. A small side bed sizzles with yellow daisies and Lychnis coronaria, its grey stems and foliage topped by a mass of magenta flowers, but also has room for the dark grey-green leaves and rounded, semi-double pink flowers of dainty Rosa 'Raubritter' and the pink bells of tall dierama which sway prettily in the breeze. There are herbs tucked in here; fennel, tall and feathery, and borage, with its vivid blue starry flowers – just asking to be popped into a glass of ice-cold Pimms.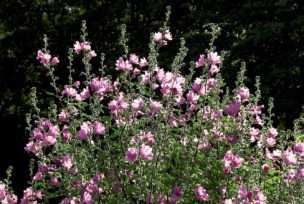 Lavatera cachemiriana
As though there is not enough to do in a garden as extensively planted as this, a clipped yew arch has been formed to hold a statue. Large clipped yew balls edge the path near a tiny paved area where plants are swiftly reclaiming the gaps between the stones. Viticella clematis scramble up decorative uprights and along the high chain between. There is a small brick outbuilding with pergola, almost completely smothered in climbing roses and clematis, which provides a sheltered spot to sit and reflect on everything you have seen. Clipped box topiary is another indication of the hours that go into this garden. The terrace next to the house has pots of colourful plants. There are canna lilies, lavender …. One could go on looking for a very long time.
Carol grows plenty of plants from seed, including the unusual Echinacea palida, one of the showy cone flowers. Not only does this help keep the garden stocked but also benefits her plant stall, which was doing a roaring trade. Carol still found time to answer queries about different plants and also to wonder, in a few words to me as I was leaving, whether it might be possible to open up a view in this ever-evolving garden? David carried on meeting and greeting, giving his moral support – on which, his wife assured me, she depended. If he heard the reference to a view, he gave no sign – but was no doubt still hoping that a reduction in lawn area would be the next priority.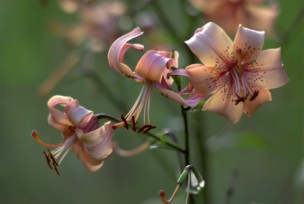 Lilium tigrinum (tiger lily)