Rushing on the River Stour
Edward Parker has learnt more about the work of Anna Lewington, founder of RushWorks
Published in November '07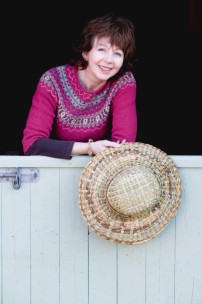 Anna Lewington
RushWorks is a remarkable project run by a remarkable person. Anna Lewington is an ethno-botanist and writer specialising in the global importance of plants. Her pioneering book, Plants for People, re-published in 2003 but written originally for the Royal Botanic Gardens, Kew, in 1990, was described as 'a complete inspiration' by Tim Smit during the setting up of the Eden Project in Cornwall. After many years esearching and writing about rainforest peoples and environmental issues relating to plant use, Anna has now turned her attention to a specific, renewable natural resource here in Dorset – rushes.
RushWorks is a local project that is reviving the tradition of harvesting rushes from the River Stour in North Dorset, producing a range of rush items from baskets and hats to Christmas decorations, and enabling local schoolchildren to experience working with this sustainable, natural resource at first hand. The inspiration for the project came as a result of research into the local history of rush work in the vicinity of Marnhull. Rush work or 'rushing' was described in The Marn'll Book (published 1952) as having been 'a very flourishing industry' in the 1930s, with rush goods in great demand and sold at 'all the local markets, and sent as far afield as Shaftesbury, Frome and Portsmouth'. Another document confirms that rush baskets made in Marnhull were also sent to London and indeed to the Queen, who in 1953 'very graciously received … the gift of a rush basket to mark her Coronation year'. In this same document Anna discovered a brief account of the life and work of the last local rush cutter, Ron Crew, who lived in Marnhull and who died in 1964.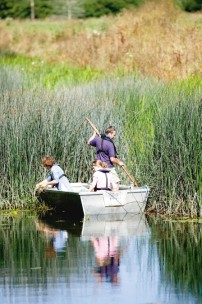 Manoeuvring into position to start cutting the rushes
With knowledge gained from these historical sources, her own practical experience of basket making and the harvesting of rush, and after consultation with many local people and organisations, RushWorks received funding from the Chalk & Cheese initiative and the Dorset Area of Outstanding Natural Beauty (AONB) in April 2006. The summer of that year then saw the revival of an activity last practised as a profession on this part of the Stour nearly 50 years ago.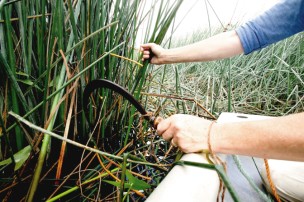 A sickle is used to cut the rushes
On an overcast day in late July, a small but enthusiastic group of volunteers began helping Anna and her RushWorks team cut rushes in the traditional way from a stretch of the river at Hammoon, near Sturminster Newton. With the aid of a flat-bottomed boat, generously loaned by Bryanston School, and using curved sickles, the dark green rushes were carefully cut below the water level, a small handful at a time, and loaded across the boat. The cylindrical stems – some of them 10 feet or so in length – were then taken back to the bank where they were made up into 'bolts', bundles measuring approximately twelve inches in diameter, ready for drying. Following a practice used on a section of the Stour near Wimborne in the mid-1940s, some rushes were laid out on the grass of the adjoining field in circles to dry, while others were spread out in fan shapes, to be collected two or three days later and stored under cover.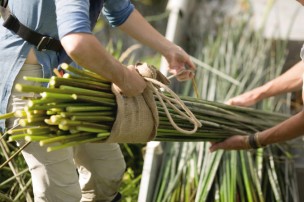 Making up a 'bolt'
The rushes harvested from the Stour are club rushes (Schoenoplectus lacustris) – sometimes called bulrushes – native perennial plants which have been gathered from Britain's slow-moving rivers and streams and lake edges since ancient times to provide floor-coverings and to make baskets, candles, footwear and chair seating, amongst a number of other things. Rushes are traditionally harvested in the summer months, preferably around midsummer's day. In years gone by, cutters acquired rights to harvest at definite places along the river's length and to distribute bundles among local households for making into goods during the winter months. Harvesting is tiring, heavy work and was traditionally done by men, but the plaiting work for basketry was generally a family occupation.
This summer's harvest was made particularly difficult by the unseasonal rain and flooding, but the first harvest had been plentiful and yielded enough rushes for Anna to be able to organise the next phase of the project. This involved the running of workshops at her base – two converted cowsheds at Gold Hill Organic Farm in Child Okeford – and visiting local schools to teach children how to make simple rush items, now a particular focus for the project. Rush work is ideal for children who enjoy practical activities, especially since it is not as demanding on the hands, for example, as work with willow. RushWorks is also providing an opportunity for children to learn about the river, local traditions and the environmental benefits of using local, sustainably harvested materials. Anna was fascinated to discover that until the early part of the 20th century rush work, especially plaiting, was taught to boys and girls in at least two schools located near the Stour.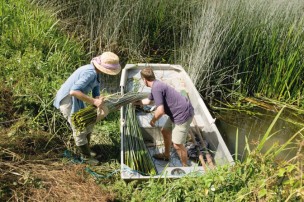 Another load of rushes is landed
To celebrate the RushWorks harvests two 'rush-bearing' celebrations have now been held at the Sturminster Newton Cheese Festival. Wonderfully colourful events, the Wessex Morris Men are an arresting sight as they process with a rush-laden cart (this year pulled by a donkey), from the Mill at Sturminster Newton, over the bridge and into the grounds of the Cheese Festival, where songs are sung in celebration. The rush-bearing heralds the revival of a tradition still carried on in other parts of the UK, chiefly the north. It dates back to the days when mixtures of rushes and sweet-smelling plants were strewn on the stone or earthen floors of buildings, especially churches, to help keep them warm and clean. As part of ancient midsummer celebrations, new rushes were brought – often by decorated cart – to the local church each year and festivities grew up alongside this practice.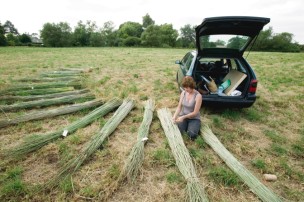 The rushes are laid out in a fan shape to dry
Anna is an energetic character with a particular passion for environmental issues and the responsible use of the planet's natural resources. She has now developed a range of rush items for sale, mostly by commission, but is dividing her time between this activity and school visits. She is aware that the success of her project, in its early stages especially, is due to the kind help and co-operation of many people, not least the family of Ron Crew and the residents of Hammoon, who have kindly allowed the rushes to be cut from their section of the river.