Inn with Freddie — The West Bay
Inn with Freddie - The West Bay - Station Road, West Bay, Bridport DT6 4EW 01308 422157
Published in November '07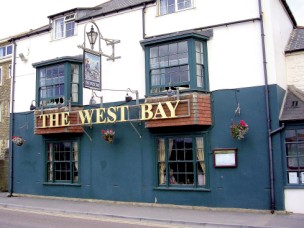 It is two years since the Barnard family took over the West
Bay, which has long had a reputation as one of the most welcoming hostelries,
and one of the best food pubs,in West Dorset. Those who were worried that that reputation might be at risk as
a result of the changeover can rest easy: very sensibly, the Barnards made some
improvements to the kitchen and to the garden but otherwise have changed
little, and we can report that the standard of the food definitely bears
comparison with how it used to be.
It is a real family affair, with parents Richard and
Lorraine Barnard joined in the business by their children, Mike and Katy. Katy
looks after front-of-house, while Mike is the chef. He trained at Weymouth
College and on the day we were at the West Bay his former tutor had chosen to
come and eat there, which is a pretty good recommendation!
If he had either of our dishes, he would not have been
disappointed. Mrs Freddie chose a fish curry which was not too hot and in
which, she said, the fish was particularly succulent, although she could have
done with more of the flavour of the promised coconut coming through. My
rib-eye steak was generous, tender and tasty, and was accompanied by a
particularly good Dorset blue vinny sauce.
The pub is well designed, with a bar at the front and the
spacious eating area tucked away behind. This layout, plus the restful décor,
means that it always has a peaceful atmosphere even when it is busy – which is
most of the time.
What gives the West Bay a lot of its atmosphere and interest
is the large and varied collection of pictures on the walls. These range from a
contemporary newspaper report on the loss of the Titanic to a painting by Lois
Jaffé of West Bay in Edwardian times, from an old engraving of the view from
Portland Heights to advertisements for the LMS Railway and for Defence Bonds.
Interspersed are early portrait photographs, mostly anonymous, but all with
intriguing faces. It is a gallery to keep one interested and the conversation
flowing. Even in the gents' loo,
the reading matter on the walls is a cut above that to be found in most pubs:
Rudyard Kipling's 'If' and a dialect poem of William Barnes.
This is a Palmers house, so stocks a range of beers from
that excellent brewery. It is usually open from 12 to 3 and from 6.15 to late,
but is closed on Sunday evenings in the winter. Food is served from 12 until 2
and from 6.30 to 9.
West Bay is a traditional playground and still has much of
interest to see and some beautiful views. It is important that it should also
be able to offer good places to eat and drink, and the West Bay helps to make
sure that this is the case.