In the footsteps of Treves — West Dorset
Steve White looks at how Broadwindsor and Stoke Abbott have changed – or not – since Sir Frederick Treves wrote about them a hundred years ago, while Clive Hannay depicts Stoke Abbott as it is today
Published in November '07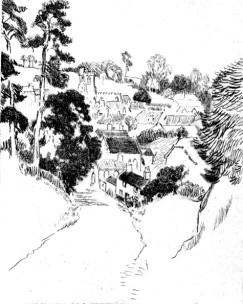 Treves, equivalent of Clive Hannay was Joseph Pennell, who added another dimension to the book with his black and white illustrations. This is his view of Broadwindsor.
When Sir Frederick Treves published his book, Highways and
Byways in Dorset, in 1906, he called one of the 23 chapters 'Marshwood Vale and
the West Border'. Here is an extract: 'To the North of the Vale [of Marshwood]
are the twin hills of Lewesdon, 894 feet above sea level, while Pilsdon is
about 909 feet. In these eminences the Dorset Heights end. So like are the two
hills when seen from about Beaminster that there is, or was, a local rhyme
dealing with the peculiarity: "As much akin As Lew'son Hill and Pilsdon Pen".' However,
some commentators say that Treves had hold of the wrong end of the stick and
that the rhyme was used to refer to people or things that were different from
each other: the West Dorset equivalent of 'as alike as chalk and cheese'. This
seems more probable, as the tree-clad summit of Lewesdon is as different as
could be from the windswept moorland of Pilsdon Pen, although they are such
close neighbours.
Treves's version differs slightly from that of Hutchins's
much earlier History of Dorset, originally published as two volumes in 1774,
which reads: "As much akin As Lewson Hill to Pilson Pen".' The difference,
however subtle, is probably down to the individual the respective writer had
asked to recite the rhyme!
Something not really down to individual opinion is the
relative heights of these two 'eminences.' This has been a contentious subject.
For many years the hill fort of Pilsdon Pen was considered the highest point in
the county, with Lewesdon being 15 feet lower (just as Treves described in
1906). Locals have apparently always called Pilsdon 'the cow' and Lewesdon 'the
calf' and again Hutchins refers to this, describing how seamen used the same
names for the two hills 'in which form it appears first to their fancies, being
eminent sea marks.' Hutchins continues, 'Pilsdon, according to the latest [late
1700s] trigonometrical survey of England, is 934 feet above sea level.'
However, the latest Ordnance Survey data states that Pilsdon
has mysteriously shrunk to 277 metres (909 feet) whilst Lewesdon is at 279
metres (915 feet). So it seems it is not just the local rhymes that have
changed!
Writing about the
village of Pilsdon, Treves observes, 'In the vale at the foot of the Pen is the
very insignificant village of Pilsdon. It consists now of no more than the
church, the manor house, certain farm buildings, and a cottage or two.' Treves
would certainly still consider Pilsdon 'insignificant'; the church, manor house
and farm buildings remain with only the addition of a couple of modern
bungalows and a metalled road to show that a hundred summers have come and
gone. Like the village, the lanes around Pilsdon have altered little since
Treves pedalled his cycle, gathering details for his book. These byways are
still as Treves described – 'deep lanes shut in by hedges so high that the
narrow way is always in shade'. Cycling would probably remain the best choice
of transport, the lanes being so narrow and twisting as to make driving along
them a real challenge.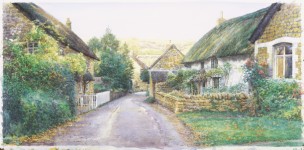 Treves says of Pilsdon church, 'The church in this out-of-the-world
retreat is very small. It possesses an ancient pulpit, as well as a holy water
stoup by the door….' The church interior seems to be the only part of Pilsdon
to have altered since Treves' visit. It appears that the church fell into
disuse at the end of the 1950s, being re-dedicated in 2000 after renovation
work paid for by the Heritage Lottery Fund and Friends of the Pilsdon
Community, a Christian community now resident in the adjoining manor house. The
church now possesses a minimalist beauty; the original pews have been replaced
by straw bales and a new altar fashioned from highly polished wood. The holy
water stoup by the door, mentioned by Treves, is still to be found;
unfortunately the 'ancient pulpit' seems to have disappeared. Outside, on the
gable, a 'modern' bell-cote holds one small bell.
'From an old inventory it would appear that the folk of
Pilsdon were not at one time as careful about their church as they might have
been, for there is an entry to this effect: "At Pillesdon there lacketh two
bells which were stolen."' So writes Treves, but this reference to the stealing
of the two bells from Pilsdon has caused long hours of fruitless research.
There is no mention of this theft in Hutchins's publication or, as far as can
be ascertained, within any other existing literature or records. Where Treves
found this 'old inventory' is a mystery.
'At the foot of Lewesdon Hill in a deep hollow full of
gardens, is Stoke Abbott, as pretty a village as any in Dorset. Its position is
most fascinating. The cottages have walls of light yellow stone and roofs of
thatch. Many of them are old and curious. Two pleasant houses, for example, are
dated 1613 and 1762 respectively. The church is a graceful type of the simple
village church of long ago, and has preserved many of its Early English
windows.' Treves's description holds good today; Stoke Abbott is indeed in a
most fascinating position in a deep hollow which serves to give a real feeling
of seclusion. All lanes leading here are again of the narrow and high-hedged
type beloved of Treves and a remnant of the Dorset of old. Treves's two
cottages are still there, both sited very close to the church. The house dated
1613, however, is now tiled, no longer possessing a thatched roof.
Regrettably, the village of Stoke Abbott has not escaped the
infill of new development amongst its older houses. Some of these additions are
of the unsympathetic 1960s/70s type and bereft of any architectural value
whatsoever. Sir Frederick Treves mentions throughout his book the steady
encroachment of 'numerous red brick villas' throughout Dorset and would
doubtless be mortified to see some of the buildings that have now appeared in
Stoke Abbott. Happily, there are not too many of these and the latest examples
appear to be much more considered and to fit better into their surroundings.
The church, according to a later edition of Hutchins's work,
suffered a disaster: 'The tower is modern having been struck by lightning
December 8 1828 and nearly half destroyed, it was subsequently rebuilt.'
Visiting the church, it is easy to see where the original masonry of the tower
meets the newer building work. Strangely, Treves makes no reference to this
event.
Treves travels on to Broadwindsor; 'A road passing through
the gap between Lewesdon and Waddon Hills leads to Broadwindsor…. The village
is large, rambling, and untidy, and is surrounded by singularly featureless
country. The chief interest of the place is due to the fact that Thomas Fuller,
who died in 1661, was at one time a rector here.'
Joseph Pennell's picture from Highways and Byways in Dorset
does not back up Treves's indictment of Broadwindsor; the view of roofs
nestling amongst trees is charming. Yet whilst Broadwindsor has become a victim
of the inevitable expansion of these times, it has retained a certain charm,
especially around the area of the church; apart from the busy road; it does not
appear to have changed a great deal.
Thomas Fuller was rector at Broadwindsor for less than five
years between 1635 and 1640. He became famous during his lifetime for
delivering sermons in a humorous style, something unheard of in the 1600s.
Fuller's position within the church meant that he also served as chaplain to
both Charles I and Charles II.
Treves continues, 'With especial care has been kept the
ancient pulpit from which Tom Fuller preached. It is elaborately carved with
floral designs, and if not as quaint as the preacher, it is at least as
florid.' The pulpit from which the jovial Tom Fuller preached remains in pride
of place within the church and is certainly an impressive example of medieval
wood-carving.
There have been changes over the last 100 years in this part
of Dorset, but thankfully not ones that would make the area unrecognisable to
Treves; what he described as 'one of the most pleasant corners in the far west
of the county' can still be called the same. The 'deep lanes', 'cottages of
light yellow stone and thatch' and 'simple village churches of long ago' are
still there. Sir Frederick could cycle these lanes today, as he did all that
time ago and, apart from a few additional buildings, see what he saw then.