Cut Mill
Just upstream from Sturminster Newton, grain has been milled on the site of Cut Mill for possibly 2000 years. Roger Guttridge tells its chequered history.
Published in November '07
The mill in 1905.
The miller lived in the cottage on the right.
A prize-winning essay on the history of mills and milling in Dorset once described Cut Mill, on the Stour at Hinton St Mary, near Sturminster Newton, as 'most picturesquely situated'. Writing in 1959, H S L Dewar, winner of the Mansell-Pleydell Essay Prize for that year, added that the 'stone and brick 18th-century corn mill' was 'still workable with a little repair to the water wheel'.
Sadly, it would take more than a 'little repair' to make it workable now, or even to render it safe to enter. Although the history is as chequered as it is long, it is hard to imagine that Cut Mill has ever before sunk lower than its present pitiful state. The location, half-a-mile down a narrow lane thought to be a Saxon hollow way, remains as picturesque as in Dewar's day and was recently described by North Dorset's conservation officer, Carole Ryan, as 'Constable-like in its visual quality'. But years of vandalism and break-ins, culminating in a fire four years ago, have turned the building itself into a charred and fenced-off ruin, its roof and one wall missing, its wheel and machinery removed or broken. Even the platform on which it stands is said to be unstable. If anything is to be salvaged from this decaying structure, it will surely need to happen soon.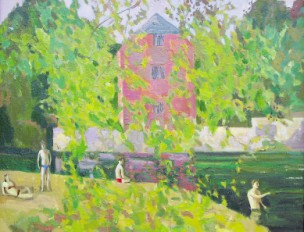 Two contrasting views of Cut Mill as a place of recreation before the fire: Tom Barrett's peaceful painting and Rodney Legg's photograph of a foolhardy leap from the roof
The origins of Cut Mill are lost in the mists of Norman and Saxon history. The present stone, bricks and mortar date from the 18th, 19th and 20th centuries but there has been a mill on this site for many hundreds of years. Given that watermills were introduced to England by the Romans and that there was a Roman villa barely half-a-mile up the hill, it is not inconceivable that there was a mill here almost 2000 years ago. There was certainly one 1000 years later, when William the Conqueror's Domesday Book of 1086 names Hinton St Mary as one of 226 working watermills in use in Dorset, plus 34 on Crown land.
The earliest millers known today were John Rake and his son, Ambrose, who died in 1752 and 1789 respectively. In 1799, when a Napoleonic invasion was feared, Hinton St Mary appeared in a list of Dorset mills compiled in connection with the defence of the nation. Two years later, the dialect poet William Barnes was born just across the river at Pentridge Farm. The first Ordnance Survey maps of Dorset, published in 1811, clearly show the mill and miller's cottage and spell it 'Cut Mill', a single 't' being the norm until recent decades, when 'Cutt' has become universally popular. The name comes from the Middle English 'cut', meaning water-channel.
The 2003 fire was not the first. In March 1817, the local papers advertised the sale of 'the site of Cut Mills, which were lately destroyed by fire'. It is probably no coincidence that in the same year, Stephen Scorey, 'miller and baker, late of Hinton St Mary', was reduced to petitioning for 'insolvent relief' from his debtor's cell in the King's Bench Prison.
The mill was re-built but the next miller, Henry Newman, fared little better and was declared bankrupt in 1828. Less than three years later, 'Cutt Mills' were offered for sale again and described as 'all that newly-erected and well-accustomed water grist mill, at present only working two pair of stones, with a powerful and constant supply of water capable of working four pair'.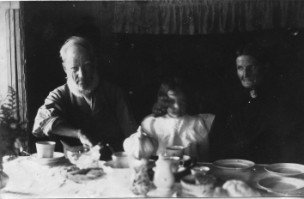 Mr Hunt the miller, photographed with his wife and daughter in the1920s. None of them looks rollickingly happy.
By 1848, George Jeffery was the miller and Cut Mill was entering what was to be the most stable period of its recorded history. Jeffery was there at least seventeen years and by 1867 had been succeeded by Robert Hunt, whose family were to remain there for more than a century. Robert was succeeded between 1907 and 1911 by his widow, Eliza. By 1920, their son, Herbert, was the miller. Local historian Madeleine Barber's notes mention a second Robert Hunt in 1944 but Cut Mill tenants in the post-war decades were brothers Gordon and Claud Hunt.
Eddie Pope, who fished at the mill as a youngster in the 1950s and 1960s, recalls that Gordon and Claud kept about ten cows each but would only milk their own. 'If Gordon was late home from the races, he'd still have to milk his cows,' he says. Sometimes the milking machines could be heard after midnight! 'When the river was high, Gordon would put up an arrangement of cone-shaped nets on a wooden framework under the hatches to catch eels.' Sometimes he caught hundreds, which would be strung up before being sent by train to London.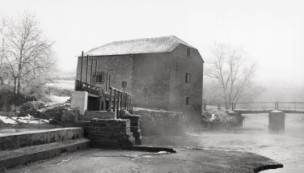 An atmospheric shot of the mill in the winter of 1979.
Cut Mill has long been a magnet to anglers, swimmers, sun-bathers, artists, photographers and walkers, who appreciated its visual and aquatic attractions, especially on summer Sundays in the mid-20th century. It has also been a magnet for wildlife. The Marn'll Book, published in 1952, reported common sandpipers and sedge warblers among the summer visitors to Cut Mill. In the same era Monica Hutchings, who calls it 'Cutt's Mill' in her book, Dorset River (1956), saw a grass-snake wriggle into the river and swim away, an orange-coloured shellfish surviving among 'piles of mussel-shells', a 'lonely heron' and 'damp-loving orchids, some paler than the others, almost a lavender shade'. During my latest visit for this article, a pair of buzzards wheeled overhead while a healthy population of emerald green banded agrion damselflies danced around the millpond in the August sunshine.
Mill owner Anthony Pitt-Rivers believes that full commercial milling at Cut Mill stopped as far back as the 1920s, although retired farmer Nigel King recalls that the Hunts were still grinding corn for local farmers after the Second World War. Mr Pitt-Rivers says: 'It was a very underpowered mill and it wasn't modernised at the end of the 19th century, as other mills were. The head of water is very low compared with Fiddleford and Sturminster mills and I think it is wishful thinking to say that it would be commercially viable for generating electricity.'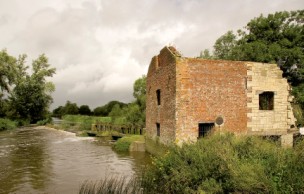 The mill today is a sad ruin
Experts estimate that it could power six to ten houses and electricity generation is one of several suggestions that have been made over the last year as the public clamour for Cut Mill's restoration has grown. Fifty or sixty people attended a public meeting in February, called by artists Tom and Diana Barrett from nearby Margaret Marsh. Largely as a result of this meeting, plans are now afoot for the Pitt-Rivers Estate to sell the mill for restoration as holiday accommodation. 'We are very keen to have this building brought back into some sort of use and there is a possibility the council might favour conversion to holiday accommodation,' said Carole Ryan.
Mr Pitt-Rivers said: 'It's a lovely place and we spent a great deal of money trying to patch it up and make it vandal-proof. I was so sad that we had continuous problems with vandalism. If someone wants to invest money to re-build it as holiday accommodation, we will co-operate. It won't be saleable without planning permission but North Dorset District Council have indicated that it could be re-built for this purpose with a large number of planning conditions.'
One issue any new owner will have to contend with is flooding, sometimes to a depth of several feet. For this reason any accommodation is unlikely to be permitted on the ground floor. Parking may also be limited, while the historic character of the access lane is a bar to road improvements. Stabilising the mill platform will be costly and planners are likely to insist that the mill retains its original appearance. Despite these problems, Mr Pitt-Rivers adds: 'My agent has assured me there will be much interest from prospective buyers.'