Eating out with Freddie — Gilbey's Restaurant
Eating out with Freddie - Gilbey's Restaurant - 5 Wollstonecraft Road - Bournemouth BH5 1JQ - 01202 394588
Published in October '07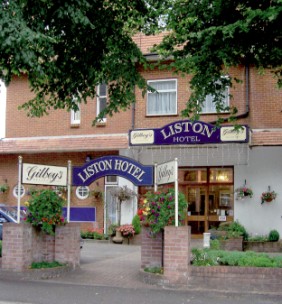 I have written before about one of the pleasures of this job being the discovery of unexpected gems among Dorset's restaurants. Normally one might make such finds in village pubs or perhaps market towns, not in the middle of the conurbation, in a restaurant attached to a hotel – yet Gilbey's was a delightful surprise and provided us with as excellent an evening as we have had for a long time. I had arrived home tired and jaded after a difficult day and the idea of slumping into a favourite sofa held more appeal at that point than going out. By the end of the evening I was refreshed, restored and jolly glad I hadn't given into temptation, and one can't ask much more of a restaurant than that.
Perhaps part of the appeal is that it is such a family affair. The Liston Hotel has been owned by Diane and David Gilbey for the last 27 years. Their son, Steven, trained as a chef and has clearly found his vocation. He also found his wife, Lupe, because she came over from Spain to work in the hotel, they fell in love and now have a son who is almost two. Lupe is the maitresse d' and it would be hard to imagine a more charming or efficient asset to the whole operation.
We took our drinks in the bar, decorated idiosyncratically with vintage sewing machines and with little dolls of fairies all round the picture rail. It was light but restful and in keeping with the slightly Edwardian air of the whole place (it was built in 1901). The canapés – a chilled melon and berries soup in a shot glass, smoked salmon with capers, lemon juice and cream, and a bite-size chicken and bacon Caesar salad – were exquisite.
Spelling mistakes usually annoy me, but I was already so relaxed that I was more amused than anything else by some rather unconventional spelling on the menu: a sauce with 'Noilly Pratt' must appeal to any Francophobe. From the five starters Mrs Freddie chose a dariole (like a mould) of wild mushrooms in a chicken mousseline. Like every dish, it arrived beautifully presented and she thought the mushrooms looked like a fairy ring. The accompanying madeira and thyme jus she described as 'wonderful'. I was enjoying a crayfish terrine with sautéed crayfish tails – crayfish have so much more character than prawns.
Before our starters, our 'amuse-bouche' was a liver paté on home-made walnut bread with beetroot chutney.
Mrs Freddie called the combination 'a marriage made in heaven' and our bouches were most definitely amusées.
The Wiltshire Horn ram that provided the lamb steak I chose for my main course is described on the menus as 'an old-fashioned breed noted for its good eating qualities'. I couldn't possibly argue; it was quite fatty, which personally I like because it adds so much to the flavour, and came close to being the best lamb I have ever eaten. Mrs Freddie had opted for stone bass, which has a softer texture than sea bass. She liked particularly the creamy samphire risotto which accompanied it, along with seared scallops.
We solved the eternal meat-fish problem by drinking a light Gamay Noir from South Africa. Much though we enjoyed our one visit to the country, we are not particularly struck with South African wines, but this rather exuberant young wine was very palatable on a summer's evening. Lupe told us that the wine list is being revised, but it already looked to us to have a pretty good range.
Mrs Freddie was tempted by the caramel and vanilla blancmange as a pudding but opted in the end for a plate of four small sorbets and parfaits: champagne, coconut, passion fruit and mint. The champagne and the coconut in particular were excellent. I was more adventurous (or greedy) with an iced chocolate marquise with mint parfait, which I found rich but quite delicious.
Our lasting impression of Gilbey's was that a huge amount of trouble has been taken. The décor of the dining room is made for comfort and elegance, with an Edwardian theme but also a hint of the 1930s. We were puzzled at first by the different designs and shapes of the plates, then realised that they were carefully chosen to complement the food that was being served on them. Add to that loving care Steven's excellent cooking and Lupe's friendliness and hard work and £30 for three courses plus canapés, amuse-bouche, petits fours and coffee begins to look like very good value indeed.