Bygone Bridport
Jonathan S Vaughan's personal memory of a 1950s and 1960s childhood in Bridport
Published in October '07
It was with a mixture of interest, amusement and disappointment that I recently read an article in the property section of the Daily Telegraph headed 'Welcome to Bridport, or Notting Hill on Sea'! Has the lovely small market town that I knew so well as a boy suffered the sort of changes that can be brought about by an increase in second property owners and city-dwellers and the influx of holidaymakers from nearby seaside resorts? In case it has, here are my recollections of a very different Bridport.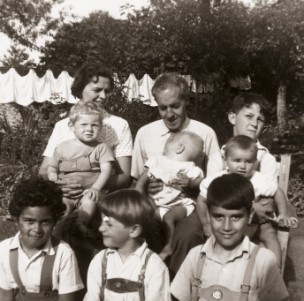 In the back row my father, mother and elder brother, Timothy, each hold a foster child – which explains the row of nappies behind! In the front row, I am between my sister Caroline and brother Christopher.
We lived in a spacious house in St Andrew's Road with a large garden and paddock that backed onto the branch railway line. Only five minutes walk away was a meandering river with a sand and pebble 'island', suitable for paddling, picnics and investigation of many shallow pools. A little further along was a riverside copse that was home to rabbits, badgers and the occasional fox, while all around us were the many paths through rolling hills and gentle valleys inviting exploration. In no time at all we were spending lazy afternoons by the river and this area soon became known as 'Happy Island', even among our neighbours and friends.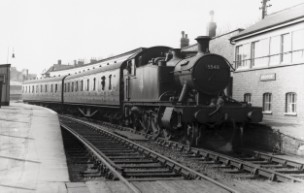 A steam locomotive like the one on which we were lucky enough to hitch a footplate ride
We soon became known as 'The Railway Children', often standing at the stile at the end of the garden, waving to the driver, guard and passengers. On one never-to-be-forgotten occasion, some of us were invited to experience the thrill of travelling on the footplate amidst the coal and furnace and felt very important as we stopped at Powerstock, Toller and Maiden Newton.
Our house and garden were next door to my first school. How privileged I was to be able to step out of our front door, walk thirty paces or so and arrive at the entrance to St Ronan's School, run by Mrs Telford in a specially built schoolroom within their garden. I still have photographs of the whole school standing in front of the building, with the Infants on tiny wooden chairs and behind them, in height order, pupils from the Intermediate and Senior classes surrounding the three teachers. Sports Days were held on a huge lawn which was kept in pristine condition by
Mr Telford and his sit-on mower, a fascination for us all. We were occasionally invited to sit with him as he drove up and down in perfect lines from one end to the other. The highlight of the year was Prizegiving followed by the end-of-year concert that took place in front of the Telfords' house. With all the ground floor windows open to enable us to hear the enthusiastically played piano accompaniment, we sang with gusto and entertained our parents with poetry and drama.
While at St Ronan's I made best friends with a boy who lived in a house that backed onto the beach at West Bay. When I was able to cycle the two miles from St Andrew's Road, I spent many weekends dropping in and enjoying the fascination of looking out of the downstairs windows and seeing peoples' legs and feet as they strolled along the shingle bank outside.
St Andrew's Road, which eventually narrowed into Barrack Street, was the main thoroughfare for us to reach Bridport's town centre. The town contained every amenity that we could wish for, even a Woolworths store that often played host to the Vaughan children with their pocket money. We also enjoyed the market on West Street with its cheerful and noisy vendors trying to out-do each other with their prices and wares. We were able to buy shoes for our growing feet at Rees's Shoe Shop, also on West Street; school uniforms and other clothes at Fenwick's, Snow's and Elm's Stores situated respectively on West, South and East Streets; wonderful fresh bread and cakes from both Hodges and Leaker's, local bakers, both on East Street. I shall never forget Mrs Langford, who worked in Hodges. When a stray wasp decided to investigate inside my shirt and stung me several times, she helped my mother with temporary first aid and provided an iced bun as a remedy for the pain. Thereafter we as a family were often given extra sweet treats whenever we called in on shopping trips.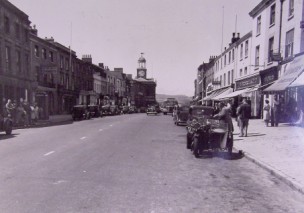 East Street in the early 1950s.
Leaker's the bakers is on the right.
Fresh meat was always available from an assortment of butchers, including Balson's, McCarthy's and Dewhurst.
We would walk through sawdust up to the counter and find the magnificent display of meats prepared by the butchery staff in their bloody overalls and aprons. McCarthy's, situated underneath the Town Hall, often seemed like a mini-Smithfield with its sides of beef, pork and lamb,
its poultry and array of sausages hanging from ceiling bars and hooks. As local residents we were recognised by many shops the moment we appeared, which gave us the warm feeling of belonging.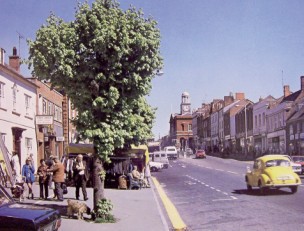 West Street in the 1960s.
We always enjoyed the market here.
Photographs of our family on special occasions such as milestone birthdays, christenings, confirmations and other events were taken by Pinn's, father and son photographers, situated on South Street exactly opposite the Palace Cinema. Many nick-nacks and unusual pieces of furniture could be found in the Antiques and Second-hand Emporium above the WRVS shop on North Street. Mr Orram, who managed this loft of curios, was an interesting person to talk to, with his knowledge of historical artefacts and the aroma of tobacco from his pipe.
Cyril and Jean Tiltman, who ran the Post Office in St Andrew's Road, were also the trainers and organisers of the Bridport Swimming Club. They were responsible for teaching nearly every member of our family to swim, first in the cold waters of the sea at West Bay and later in the far more enjoyable conditions of the indoor pool in Yeovil. The Brit Stores, managed by Laurie Hutchinson, was also a great asset for several years before the business had to close with the arrival of larger supermarkets in the town. Despite its tiny space, the shelves were crammed with the sort of items that were required in a hurry or that had been omitted from the main shopping list. Within five minutes walk of our house we were able to spend a little pocket money on old favourites such as aniseed balls, liquorice comfits, gobstoppers, sherbet dips and bubble gum, while our mother shopped for more sensible sundries. Laurie knew us all by name.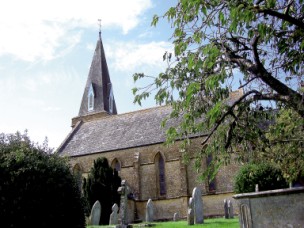 Holy Trinity Church, Bradpole, where I was a choirboy and where both my parents are buried
I and one of my brothers were choristers at Holy Trinity Church in nearby Bradpole and one of my fondest memories during the warmer months is of walking to choir practice and, on Sundays, to morning and evening services along the water meadows by the river and on through the winding lanes of Bradpole village. The walk back after Evensong was especially evocative with the beginning of twilight, the sound of the gurgling river, the occasional owl or even nightingale and the family chatter about the forthcoming week. Both my parents are now buried in the beautifully cared-for churchyard, looking down to the Old Vicarage and out towards the open countryside with the blue, hazy outline of Eggardon Hill in the distance. No setting could be more peaceful and serene.
Saturday lunchtime fish and chips from the fish restaurant on West Street car and coach park, the Sea Scouts Hall a little further along, the Cottage Hospital at the top of a very steep hill (a favourite spot for driving instructors to teach those hapless learner drivers the three-point turn and the essential use of the handbrake!), the walk along the River Brit via the playing fields behind the glorious St Mary's parish church and on past the weir and the brewery towards West Bay, the museum on South Street with its artefacts and stuffed animals and birds – these are all places and events that still live vividly within my memories. Above all, however, it is the people that I knew and mixed with who contributed towards what I still consider a unique and very happy childhood spent in a very special town. Bridport has seen many changes over the years but I hope it hasn't lost that wonderful feeling of community in which I was lucky enough to grow up.