A lost mansion of Dorset
Dorset has been lucky in losing only a small number of its larger mansions over the last three hundred years, but one of the losses was the largest and most magnificent house ever built in the county – Eastbury. Jo Draper tells its story.
Published in October '07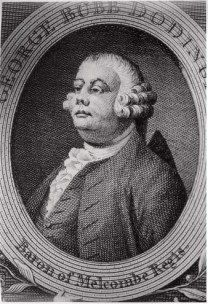 Bubb Doddington, who developed Eastbury
The palatial residence of Eastbury was built on a new site at the centre of a new estate and was designed by the great architect, Vanburgh, for George Doddington, who had made a fortune when he was Paymaster of the Navy. Work started in 1718 and the project was inherited (along with the fortune) by George's nephew, Bubb Doddington, in 1720. Bubb was the son of a Weymouth apothecary but also a courtier. His published diaries are gossipy and creepy, and he stuck to the fashions of his youth all his life. A contemporary unkindly noticed that 'His bulk and corpulency gave full display to a vast expanse and profusion of brocade and embroidery.'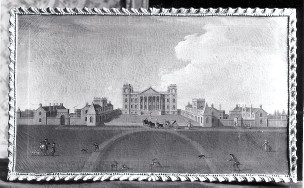 A stylised view of the house in its heyday, with Budd Doddington drawing up in front of the house in a coach and six
The house, near Tarrant Gunville, was finished in about 1738, having taken twenty years to build. It was vast. The show front was 570 feet across, with the house proper in the middle and courts of stables, kitchens etc either side. Hutchins, the county historian, described Eastbury in 1774 as 'one of the grandest and most superb in the county, and indeed in the Kingdom.'
Sir Joseph Banks visited in 1767 and found it 'exceeding large and possibly one of the heaviest piles of stone Sir John Vanburgh ever erected'. Fifty years after being designed, Eastbury was unfashionable, but in fact it was the third heaviest pile designed by Vanburgh – Blenheim and Castle Howard are larger.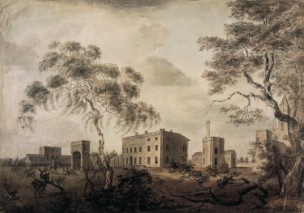 A rare view of a house being demolished: Eastbury in about 1780
Eastbury was like a palace: not only was it enormous, but it was fitted out in the most sumptuous (and expensive) style. Banks found the inside 'fitted up magnificently with a good deal of gilding and ceilings painted after the antique. Upon the whole the inside is much more convenient as well as more elegant than the outside gives us any hopes of.'Mrs Philip Lybbe Powys visited in 1760, when Bubb Doddington was living there, and recorded in her diary that the house 'may be styl'd an elegant fabrick; having ascended a grand flight of steps, you come under a Doric portico…from thence you enter a noble hall, adorn'd by statues and busts, the saloon painted olive, the ornaments…rich gilt; the sofas in this apartment are very fine tapestry.' Other rooms had crimson velvet, cut velvet, and lots of gold. 'The marble tables in all the principal rooms are fine, purchas'd, the housekeeper inform'd us, out of one of the Italian palaces.'
Dr Richard Pocock described the 'best chamber' in 1754 'all furnished with crimson velvet, and on each compartment a gilt eagle holds in his mouth a golden horn, with arms of the family', but rather disappointingly they are 'of thick paper or paste board' (actually leather, another visitor ascertained).
Fine, rich, grand, splendid are the words most often used to describe Eastbury and its palatial interiors, but some sophisticated visitors found it vulgar. Richard Cumberland mocked 'the turrets and wings that went I know not where…and the interior was as proud and splendid as the exterior was bold and imposing. All this was exactly in unison with the taste of the magnificent owner, who furnished the apartments with a profusion of finery…He was rarely seated but under painted ceilings and gilt entablatures.' Cumberland visited in 1756, and found 'Our splendid host was excelled by no man in doing the honours of his house and table; to the ladies he had all the courtly and profound devotion of a Spaniard, with the ease and gaiety of a Frenchman towards the men.'
The contemporary poet, Alexander Pope, mocked these ostentatious houses:
But Hark! The chiming clocks to dinner call;
A hundred footsteps scrape the marble hall:
The rich buffet well-coloured serpents grace,
And gaping Tritons spew to wash your face.
Is this a dinner? This a Genial room?
No, tis a Temple, and a Hetacomb.
Alexander Pope knew Bubb Doddington and disliked him, writing: 'He is too much a half-wit to love a true wit, and too much half-honest to esteem any entire merit…I must affront him to be rid of him.'
Doddington entertained several poets at Eastbury, as Pope mocked:
Much they extolled his pictures, much his seat,
And flattered every day, and some days eat:
Till grown more frugal in his riper days,
He paid some bards with port, and some with praise,
To some a dry rehearsal was assigned,
And others (harder still) he paid in kind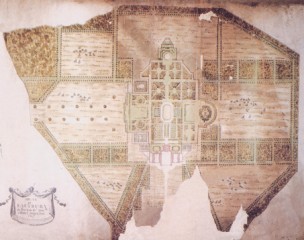 The ambitious plan for the garden, as drawn up by Charles Bridgeman
The palatial Eastbury had suitably massive gardens and park. The garden was formal, and designed by Charles Bridgeman. In 1775 Hutchins described the gardens as 'very extensive and beautiful, adorned with vistas and plantations of trees; many of which were removed hither some miles off, after fifty years growth, and weighed 3 tons.' He found the park (five miles round) and the gardens gave 'a very grand appearance'.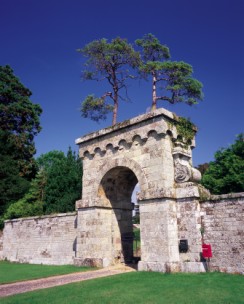 Vanbrugh's great archway is now decorated by Nature in a way he never intended
Bubb Doddington died in 1762: he had only been left a life interest in Eastbury and by his uncle's will the house went to Earl Temple of Stowe, who didn't want it and couldn't find anyone to buy it. The elegant furniture was sold in 1763. Earl Temple offered an annuity of £200 a year to anyone who would live there, but still no takers. Demolition was the only answer, and it took several years and dynamite to get the great mansion down. By 1782 it had gone, but a small part of one of the subsidiary courts survives, converted into a large house.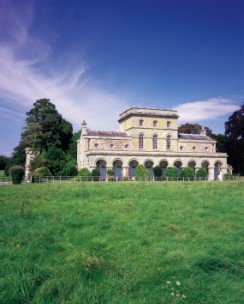 The size of the surviving stables gives an idea of the scale of the original house
The Rev. W. Smith Marriott wrote a long and bad poem, 'A Tribute to Dorset', in 1831. His conservative instincts were offended by the remains of Eastbury then being used for the hounds of a famous local hunt:
And Eastbury – where Thompson's name,
Gave to thy Downs a tuneful fame.
Where are the Bowers once so sweet
For Druid Bard – a lov'd retreat!
Dismantled now, without a trope you see
'Gone to the dogs' – in stern reality