'No ordinary garden'
Chris Shaw and Colin Varndell visit Sticky Wicket at Buckland Newton
Published in September '07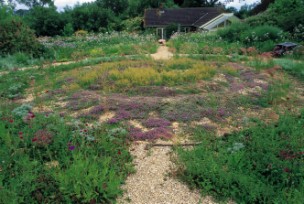 The Round Garden attracts the constant
hum of insects
I could very happily have parked my car and not gone into Pam Lewis's Sticky Wicket garden at all. One look at the wildflowers in the adjacent Davey Meadow was all it took to persuade me that here was something worth taking time to enjoy. This parcel of land once owned by Roy and Jo Davey is now, under Pam's careful management, bursting at the seams with wildflowers which are seen less and less frequently in our countryside and which she is so determined should be conserved for generations to come.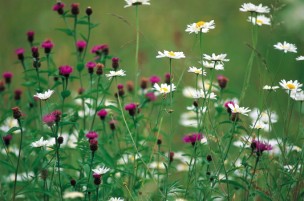 Ox-eye daisy and knapweed
However, as I crossed the lane to the garden proper I was convinced that the meadow was merely a foretaste of better things. I last visited Sticky Wicket in 1990, just three years after Pam and her husband, Peter, bought the bungalow with four acres of rough pasture and began to design and create a garden that would be beneficial to wildlife. Even then one could see that this would be no ordinary garden.
A tour of Sticky Wicket begins in the blue and yellow themed Frog Garden which, as its name suggests, is based around ponds. Shrubs include the gold foliage of Lonicera nitida 'Baggesen's Gold', Spiraea japonica 'Allgold' and the yellow flowers and grey foliage of Cytisus battandieri. There are grasses and herbaceous plants echoing the theme as well as the beautiful blue Clematis 'Mrs Cholmondeley' and Rosa 'Maigold'. A mini-meadow has been created nearby and I was interested to read the construction notes. Too much fertility in the soil, apparently, and your meadow will not perform. In this instance, rubble from a demolished wall was mixed with sub-soil and then spread over plastic sheet. Patches of fine meadow grass turf were laid on top and the area dressed with limestone chippings to which local seed had been added. Three years later, wildflowers are much in evidence; flowers which would not survive in fertile conditions. Yellow rattle is encouraged, to keep down the grass growth.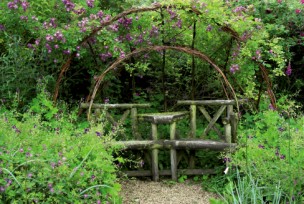 A secluded retreat
The two large ponds were designed and landscaped by Peter Lewis in late 2003. One metre deep in the centre and lined with butyl rubber, they already look very well-established and are an important part of the garden. Newts, snails, water boatmen, dragonfly larvae, have all populated the original small pond and will doubtless spread as the large ponds achieve a balance between flora and fauna. Garden birds, too, are attracted by the water and the food source, as well as by the many roosting pockets and feeding globes that are positioned throughout the garden.
The globes are a particularly clever idea, weaving willow wands into an orb, in the centre of which hangs half a coconut. Each globe allows small birds to feed in safety, out of reach of passing hawks.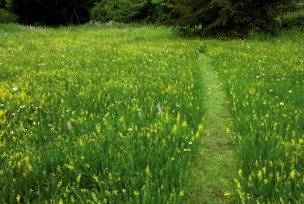 Orchids dot the flower meadow
The area called the Bird Garden is a mix of borders and beds, pots and pergola. The circular gravel bed is packed, with so much to identify and enjoy that I had to go round again for another look at the burgundy mix in the curved back border, with Astrantia maxima and A. 'Hadspen Blood' massed by dark-flowered weigela and pink hardy geraniums. Poppy lovers will find the delicious 'Pattie's Plum'. Sedum 'Dragon's Blood' speaks for itself. Among climbers are Clematis viticella 'Purpurea Plena Elegans', C. 'Duchess of Albany' and Jasminum officinale. Variegated spikes of iris foliage poke up through huge blue hosta leaves in a combination of both colour and form that is very satisfying.
An Astrantia flower warrants closer inspection
Wandering on through the garden (and this is not one to see in a hurry), there is a small chalk wildflower bank which boasts common spotted and southern marsh orchids. It also hosts lady's bedstraw and cowslips, the seeds of which were unexpectedly imported with the chalk, and (hiss of indrawn breath?) the dreaded yellow ragwort. As Pam points out, though, ragwort is a valuable nectar plant and hosts the larvae of the cinnabar moth. This patch is watched carefully, to ensure that the flower heads are removed before the seed is set; not a project for the forgetful, perhaps.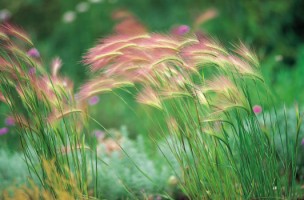 Grasses can be just as beautiful as flowers
The White Garden is billed as more of a White Wilderness. Whatever its name, I found it a peaceful and contemplative area of the garden with nothing vivid to distract the eye. The possibilities of echoing this idea are endless, with trees, shrubs, roses, grasses, herbaceous and ground cover plants, all available in an extraordinary range of many different shades of white. Philadelphus 'Beauclerk' and Osmanthus 'Burkwoodii' are two that fill the air with fragrance, while Sedum spectabile 'Iceberg' and Echinacea 'White Swan' are as lovely as their names suggest. Rosa 'Seagull' scrambles aloft and the many grasses include Carex 'Frosted Curls' and Deschampsia 'Bronze Veil'. There are dozens more. What a superb research project, tracking them all down.
As a contrast, one can see what nature has provided without too much help in the four hundred metres of boundary hedge with five splendid mature oak trees that help the garden merge into the countryside. It is all kept as natural as possible to provide valuable wildlife habitat and food. Where wood has to be pruned, nothing is wasted. Some is used to make seats and other garden features, while 'eco-heaps' of logs and hollow stems are left in strategic positions to encourage wood wasps, beetles, bees and other insects. Mulching, too, is an excellent way to keep moisture in the soil and discourage weeds.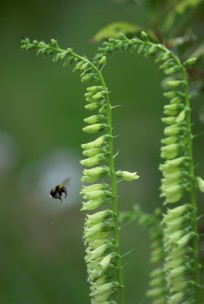 A visitor to a Digitalis lutea
Not all weeds are unwelcome, though. While this is most definitely a garden of wonderful plants, many instantly recognisable to the 'average' gardener, some are more unusual – or, perhaps, more unexpected. These include such as nettles which, as Pam explains on one of her useful information boards, are especially useful for wildlife. Their inclusion where practicable is a good thing – with the proviso that the gardener, not the weed, dictates the proportion! In a similarly strong-minded tactic she has also grouped her garden 'thugs' together, letting the likes of Persicaria 'Atrosanguinea', Valerian officinalis and Filipendula rubra elbow each other into submission.
It was the Round Garden which I remembered from all those years ago and it looks just as good now. There are a dozen beds in an interconnecting wheel, with colours that start the year with pale pink and yellow, move on to blue, violet, magenta and red, then fade to pink again. Although this is obviously a well thought-out and executed colour scheme, the garden information in the Shepherd's Hut stresses that a plant's inclusion is primarily based on its ability to attract or sustain wildlife. While I enjoyed looking at the globes of allium and thought how well they contrasted with the barley grass, others were visiting for the nectar-rich properties of scabious, catmint, lavender, thyme, phlox, aster and fennel: red admirals, tortoiseshells, peacocks, painted ladies and commas can all be seen here, as well as meadow butterflies such as orange tips, clouded yellows, holly blues and brimstones. Just sit and listen and you can hear how successful the garden is, by the constant hum of insects.
The garden is still developing, with the formation of a new meadow. In 1997, eight inches of top soil were scraped off to reduce the fertility of this area before local seed was sown. It is now a palette of wildflowers such as ragged robin, orchids, plantain, ox-eye daisy, cat's ear. A narrow mown path allows the visitor to walk and enjoy, but being especially careful not to do anything that would disturb the management programme. This is the level of care that has also restored the Davey Meadow next to the car park, a project which has so far taken ten years.
I was appalled to read in Pam's notes that 98% of wildflower meadows – prime natural habitat – have been destroyed in the last fifty years. Of the remaining 2%, only a few are on fertile clay soil such as at Sticky Wicket. Specific and prolonged management is necessary to keep more rampant plants at bay and allow the wildflowers to flourish.
Most of us are engaged in what I suppose one would call 'normal' gardening, choosing plants with regard to height, spread and colour, but from now on I will be giving more thought to wildlife and providing a habitat where I can. Anyone who has a buddleia in the garden, or a sedum, has made a start. If you want more ideas, visit Sticky Wicket. And if you really want to make an impression, listen to Pam's heartfelt plea: Go make a meadow!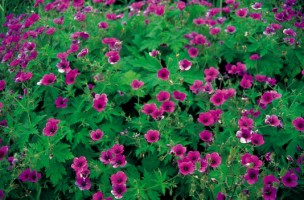 The vibrant colour of hardy geranium 'Patricia'