Dorset's last line of defence
Guy Smith uncovers some of the county's pillboxes that have survived from the perilous years when invasion threatened
Published in September '07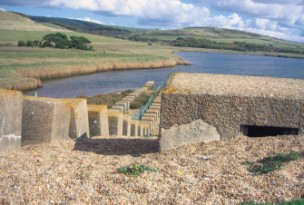 A pillbox at Abbotsbury, its pebble rendering partially lost, stands next to concrete anti-tank blocks
Dorset is home to several ruined castles, grim but beautifully evocative reminders of a more violent past. Yet the visitors who flock to places like Corfe Castle are largely unaware that relics of a more recent crisis in our history lie neglected along our county's coast or hidden amongst foliage beside its roads, rivers and railways.
In June 1940 the British Expeditionary Force had just been evacuated from Dunkirk. In the face of imminent invasion, Prime Minister Winston Churchill rallied his fellow citizens. 'We shall fight them on the beaches,' he memorably assured friend and foe alike. Inspirational words and not mere rhetoric, for behind the scenes frenetic activity was taking place to ready Britain for just such an eventuality. What resulted was Britain's latest weapon in its periodic battle against invasion: the pillbox.
It is generally agreed that the term 'pillbox' was first used towards the end of the First World War, deriving from a similarity between these compact concrete structures and the small containers traditionally used to store tablets and pills. Charles Edmonds, in his book A Subaltern's War (1929), describes the early evolution of the pillbox: 'Pillboxes had begun by being concrete cellars in farmhouses; they grew gradually into keeps of reinforced concrete in the midst of the wreckage of ruined houses; in the third stage the ruins were scattered by shell-fire and the boxes of concrete were left standing alone'.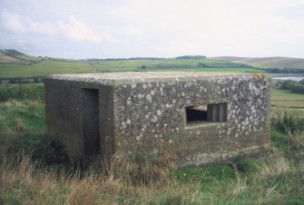 A Type 26 box overlooking Abbotsbury Swannery
In the immediate aftermath of Dunkirk, the Fortress Works Department 3 (FW3) produced seven basic pillbox designs (Type 22 through to Type 28). Each was capable of being adapted to suit its local environment so that identical designs often ended up looking radically different.
In addition to the FW3 designs, several commercial pillboxes were also manufactured. Each pillbox was camouflaged to blend in with its surroundings. Boxes on Chesil Beach were rendered with pebbles, some were half-buried in the ground while others were raised to afford their occupants great visibility. All the FW3 pillboxes were constructed of reinforced concrete poured into a wood, brick or corrugated iron mould (shuttering). Wooden shuttering was removed after the concrete had cured, whereas brick and corrugated iron tended to be left in place. The pillbox standing above Hive Beach at Burton Bradstock, a Type 24 and hexagonal in shape, retains its brickwork to this day, as do various others across the county. Square Type 26 pillboxes at Abbotsbury were constructed using wooden shuttering and remain in surprisingly good condition.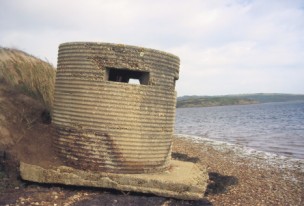 The ridges on this Type 25 round box show that its manufacture used corrugated iron shuttering
In the space of a few months during 1940 and 1941, thousands of pillboxes were erected across southern Britain, the largest military building programme in history. For Dorset this meant a string of boxes stretching the entire length of its coast as well as a secondary line of defence that followed the course of the River Frome from Maiden Newton to Poole Harbour. To the west of the county, several pillboxes in and around the Thorncombe area formed part of the Taunton Stop Line, a formidable barrier stretching northwards from Seaton in Devon to Highbridge on the Somerset coast. Dubbed the Hadrian's Wall of the 20th century, this line of over 300 pillboxes guarded against a German advance in the event of an invasion in the far west.
Pillboxes, which had walls between one and three feet thick and openings known as 'loopholes' or 'embrasures' for firing on the enemy, did not stand in isolation. Anti-tank obstacles, machine gun positions, trenches and barbed wire connected them, effectively dividing England into a series of compartments with the aim of rendering the country an impregnable fortress. In addition to these defensive lines, several 'anti-tank islands' were created. Maiden Newton was one such island and was to become one of the most heavily fortified villages in the county on account of its strategic location at the junction of two river valleys and its proximity to important rail and road junctions. Two pillboxes remain in Maiden Newton as well as numerous others positioned every quarter of a mile along the railway line towards Dorchester.
The Dorset Home Guard manned many of the county's pillboxes and it was while on duty at the box at Eype Mouth that members of the Home Guard captured the crew of a German Heinkel 11H-2 bomber that made an emergency landing on the beach in November 1940.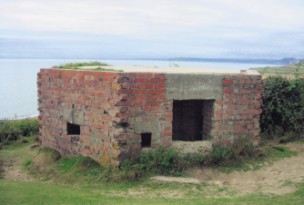 A hexagonal pillbox above Hive Beach at Burton Bradstock retains its brick shuttering
In October 1940 Operation Sea-Lion (Hitler's plan to invade Britain) was postponed until the spring of 1941. By then, however, the Führer had turned his attention elsewhere and by 1943 beach defences were actually being cleared in preparation for D-Day, during which pillboxes were used as target practice by Allied troops.
When the Second World War ended, the government offered farmers £5 to demolish pillboxes on their land – as the boxes weighed close to 100 tons, this was a task that proved easier said than done! Over the years, the pillboxes that escaped demolition quietly deteriorated, unsightly anachronisms that had served their purpose. Interest in pillboxes revived with the publication of Henry Wills's book, Pillboxes, in 1985, and 1990 saw the founding of the Pillbox Study Group (PSG), an organisation dedicated to the preservation of 'Britain's castles of the 20th century'. Graham Matthews, a former Royal Navy helicopter pilot, joined the group in 1995. His interest in pillboxes began when, as a 17-year-old sea cadet, he camped in one overnight on an old airfield in Cornwall. Now a Virgin Atlantic airline pilot based near Dorchester, Graham is responsible for the PSG's impressive website (www.pillbox-study-group.org.uk). 'Pillboxes need to be saved,' he says, while admitting that friends often find his chosen hobby a source of amusement.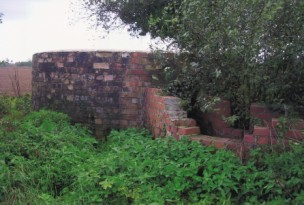 The 'Dorset Round' pillbox uncovered by Graham Matthews and other members of the Pillbox Study Group. This one has a blast wall entrance.
Two years ago, Graham and other members of the PSG uncovered a unique round pillbox at Woodsford near Dorchester. 'The pillbox was totally hidden and in danger of collapse due to an adjacent tree,' he explains. With Graham's wife keeping the volunteers fed from an improvised field kitchen, the tree was cut back and other vegetation cleared. 'People kept stopping in their cars and asking: "How long's that been there?" "Sixty years," we told them!'
Despite the PSG's best efforts, pillboxes continue to disappear. New housing developments, vandalism and coastal erosion are all threats. Some are now protected, like Fort Henry, Britain's largest box at Redend Point, Studland, which is 90 feet long and was used by Churchill and Eisenhower to view rehearsals for the Normandy landings. Also at Studland, however, a pillbox was demolished when it became apparent that it was being used to spy on bathers at the nearby nudist beach! Graham Matthews can see the funny side of this story but asks, 'Why couldn't they have just blocked up its loopholes?'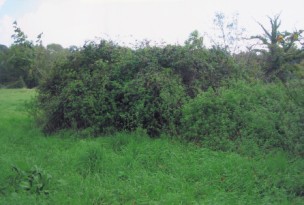 Only a few yards from the road near West Stafford, a pillbox lies hidden beneath this mass of foliage
Of the 28,000 pillboxes constructed about 6000 remain, 100 of which are described as being in good condition. Many have found new uses. Stores, summer houses, animal pens, ice cream kiosks and bat sanctuaries are just some of the functions they now perform. Perhaps their most important role, however, is as a reminder of a time when democracy and freedom could not be taken for granted. For that reason alone they are worthy of our respect.