Children of the light
2007 marks the centenary of the Scouting movement. Francis Casey looks back to Robert Baden-Powell's first experimental camp and forward to this year's celebrations
Published in May '07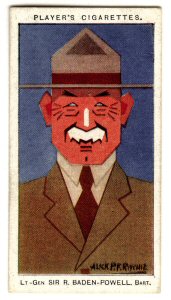 An unusual image of Robert Baden-Powell by Alick P.F. Ritchie on this cigarette card of 1926

One summer day in the late 19th century, a young lad was out sailing in Poole Harbour with two of his brothers. Aware that Brownsea Island was private, the youngster nonetheless nosed the boat ashore and made a landing that would shape his later life.
The adventurous lad was Robert Stephenson Smyth Baden-Powell, who went on to achieve fame during the Boer War as the hero of Mafeking. On returning to England in 1903, Major-General Baden-Powell developed plans to foster a sense of duty, discipline and good citizenship in British boys by teaching the skills of the young army scouts he had seen in action. Never shy of exploiting his celebrity status, he set about lobbying his influential contacts and in 1906 circulated a leaflet entitled 'Boy Scouts: A Suggestion'.
The response was enthusiastic, but Baden-Powell realised that he needed to try out his ideas in an experimental camp and for this he needed a suitable venue with absolute privacy. The solution was found on a fishing holiday in May 1907, when Baden-Powell met Mr and Mrs Charles van Raalte. They got on so well that the van Raaltes invited him to visit them, either at their London home or at their castle on Brownsea Island. Baden-Powell had found his venue – this time by invitation.
His team took shape quickly. Major Kenneth McLaren – an old army friend – was recruited as second-in-command, Captains Henry Robson of the Bournemouth Boys' Brigade and GW Green from Poole were appointed to oversee equipment and supplies, and William Stephens – coastguard at Sandown, Isle of Wight – was to demonstrate first aid and fire-fighting.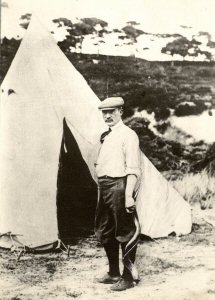 Baden-Powell at the first camp on Brownsea in 1907, outside a tent with his kudu horn

Baden-Powell insisted that while ten of the youngsters might be drawn from public schools, the other ten must be 'town boys'. Personal contacts provided the former and Robson and Green nominated the rest: seven from Bournemouth Boys' Brigade and three from Poole. In the event, 21 boys volunteered (average age 14) and were joined by Donald Baden-Powell, the nine-year-old son of Baden-Powell's late brother, George.
The public school boys were charged one pound for the camp, while the town boys paid three shillings and sixpence (171/2 pence). The boys had to be confident swimmers and familiar with three knots: reef, sheet bend and clove hitch. Parents were assured that their sons would be given 'wholesome food' and that 'cooking and sanitation etc. would be carefully looked into'.
Transport from Poole Quay or Sandbanks was in the capable hands of local boatman Bill Harvey in his motorboat Hyacinth. Well before the end of July, Baden-Powell and his helpers were getting things ready on Brownsea, 'a splendid island, well-wooded and wild, giving plenty of scope for scouting'. The site chosen was on the southern coast, looking over to Furzey: an open area of sloping grass and heather, in the lee of pine trees and running down to a beach.
By Tuesday 30 July, all of the boys had reached the island and were allocated to one of four patrols (Wolves, Bulls, Curlews or Ravens), each a mixture of public school and town. They were to learn various practical skills, including knots, hut and mat making, fire-lighting and cooking, boat management, woodcraft and tracking. There would be training in observational skills, health and sanitation, first aid and life-saving. The boys were also to be instructed in courage, endurance, unselfishness, charity and thrift, loyalty, chivalry to women, doing a good turn, patriotism and duties as a citizen.
Quite a curriculum – and needing a long day to pack it all in. The boys were woken at 6.00 am by Baden-Powell blowing on his African kudu horn. They had time for a quick wash, cocoa and a biscuit before tidying the campsite and beginning work on the subject of the day. Baden-Powell led the physical drill, followed by flag break and prayers. Only then did they have breakfast. The morning was given over to scouting exercises and after lunch there were games and competitions on the subject of the day. One that would raise an eyebrow in our risk-averse age was the whale hunt, with floating logs for the whales, two rowing-boats full of boys and the enthusiastic hurling of heavy, hand-held harpoons!
Dinner was followed by a gathering round the campfire, introducing the next day's topic, yarning and prayers. Baden-Powell was often inspirational, 'in the flickering light of the fire – an alert figure, full of the joy of life, now grave, now gay, answering all manner of questions, imitating the call of birds, showing how to stalk an animal, fleshing out a little story, dancing and singing round the fire.'
All too soon it was nearly over. Thursday 8 August was a sports day, before an invited audience of Baden-Powell's acquaintances. There were competitions, demonstrations and games, all warmly applauded by the admiring onlookers. The van Raaltes invited everyone back to the castle for a slap-up tea and there was a raucous three cheers 'for the best general in the world'.
The next day members of the party began to disperse. The mixture of social classes had apparently worked and Baden-Powell seemed satisfied with the outcome. Before leaving, he scribbled a note to a friend, 'I am just breaking up camp here…in a tearing hurry…the camp has been a great success, but hardish work.'
Nothing is more compelling than an idea that has found its time. Baden-Powell soon published a pamphlet, Boy Scouts: A Successful Trial, and developed his earlier Aids to Scouting into the legendary Scouting for Boys. Numerous scout troops were established, first nationally and soon internationally. In 1909 a rally for all boy scouts was held at Crystal Palace and in 1910 an organisation for Girl Guides was established under the leadership of Baden-Powell's sister, Agnes. In 1920 the first World Jamboree was held at Olympia, with Baden-Powell proclaimed Chief Scout of the World. By 1922 there were more than a million scouts in 32 countries, increasing to more than three million by the 1930s.
But in the 21st century – the age of youthful disaffection, of the iPod and online chatrooms – surely the appeal must have faded? Apparently not. While preserving its core values, Scouting has moved with the times and its appeal remains undiminished. Dr James Morton, the County Commissioner for Dorset, reports that Scouting is now the only youth organisation with a growing demand for membership and all as keen as ever on camping and adventurous activities. Membership in the UK now stands at nearly half a million, with waiting lists in many areas. With over 28 million members in more than 216 nations and territories – and two-thirds of the world's Scouts living in developing countries – Scouting is the largest and most thriving peace movement in the world.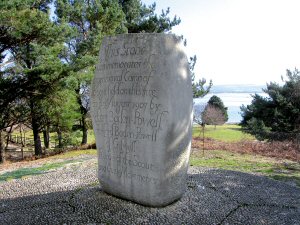 The stone on Brownsea commemorating the first Scout camp

This year's celebrations will be heartfelt, particularly at the twenty-first World Scout Jamboree in Chelmsford, where 40,000 Scouts will gather. But there is no doubting where the heartbeat of the movement will resonate most movingly. When the sun rises over Brownsea Island on the first day of August, Scouts from every national organisation in the world will be gathered to renew their pledges on the site of that first camp a hundred years before. No doubt the thoughts of many will turn back to the young campers themselves and what became of them. Some did go on to become Scouts, while others remained with the Boys' Brigade or with their school cadets. One was still giving interviews at the age of 96 and another died as recently as 1994, at the grand age of 100. Five of the boys were awarded the MC for bravery in the First World War. More poignantly, seven of the twenty-two did not survive beyond young manhood. One lost his life following an operation in 1911, four fell in the carnage of the trenches, one died of disease in Aden in 1918 and another succumbed to the effects of gas, eight years after the war had ended. Lost boys, indeed.
In the 7th century there was a hermit on Brownsea Island who lit beacons to help guide sailors to their destination. Perhaps no more than a simple act of human kindness, but his light established a tradition for helpfulness – for a good turn – that lives on today in the work of the Scout movement. Baron Baden-Powell of Gilwell, his helpers and those pioneering young campers have all long since gone to their rest, but the fires kindled on Brownsea in 1907 continue to bring light to a dark and troubled world.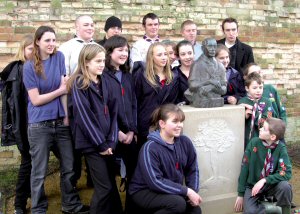 The bronze bust of Baden-Powell honouring what would have been his 150th birthday.?Scouts and Guides from across the district were on hand to mark the occasion when it was unveiled on Brownsea earlier this year.

Centenary Events in 2007
27 July – 8 August Twenty-first World Scout Jamboree
Hylands Park, Chelmsford
26-28 July Brownsea Island:
Patrol Leaders' Camp
28 July – 4 August Brownsea Island:
1907 Replica Camps
29 July – 1 August Brownsea Island:
Sunrise Camp
1 August Brownsea Island:
Sunrise Breakfast
1 – 4 August Brownsea Island:
New Centenary Camp
[Please note that Brownsea Island is in the care of the National Trust.]
Contacts
Brownsea Island Visitor Services Manager:
Tel 01202 707744
Scout Association:
Tel 0845 300 1818 Website www.scouts.org