A Dorchester schoolboy a hundred years ago
The late Rex Fare's reminiscences of life in Dorchester before the First World War created much interest when published in Dorset Life. In this second instalment, he recalls his schooling.
Published in May '07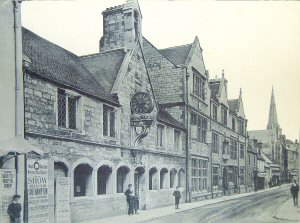 Dorchester Grammar School, South Street in 1909

My first school was Miss Pouncy's, which was in South Street, over the premises occupied by Sercombe and Hayes, now Gould's furnishings shop. I was an unwilling pupil and have been told that when I got as far as George's cake shop I was apt to cling to the brass front and sit on it, soundly objecting to going any further and howling loudly.
In time I graduated to the Misses Crocker's School which was at Argrove House, where Tilley's cycle shop used to be, with Channon's the coachmakers next door [now Majestic Wines]. Then I went to Mr Dodderidge's school which was for boys only and was opposite the top of New Street [where Somerfield is today].
There was also a local government school which was C of E and in Colliton Street. The headmaster was a Mr Taylor who, I have been told, was a very strict disciplinarian and used to cane the boys violently for any irregularities. Nevertheless, many old boys have told me that despite the punishments, the education was a good one and had given them a splendid start in life.
In 1909 I went to the Dorchester Grammar School in South Street, where Hardye's Arcade now stands. The Headmaster was Mr H. A. Francis, who kept discipline by the use of a small bunch of keys, which he kept in the upright position and forcefully tapped on the top of boys' heads in an effort to knock some sense into them. I was seven years in this school and received a very good education, despite the War years.
The school consisted of about 100 boys, with five forms numbered one to five, although I think the second form was divided into 'a' and 'b'. We assembled at 9 am for prayers from which Roman Catholics were excused. The head (more familiarly known to the boys as 'Frankie') read from the Prayer Book and the roll call was held. Many of the boys stood in the main hall as there was insufficient room in the classroom, which was bounded on one side by a Spanish oak screen that was later moved to the library at Hardye's School, the successor to the DGS. Entrance to the school for the boys was from Charles Street, through the asphalted playground, along a corridor containing numerous lockers on one side for boys' personal possessions, to the front hall. With the passage of time and increased acumen, if you were a bit late in the morning, you sneaked in the front door in South Street and joined the crowd in the hall just in time to answer your name. But split-second timing and some luck in not being discovered was essential.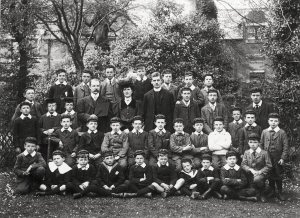 Rex Fare (third from left in front row) at Dodderidge's School, Trinity Street in about 1905

Mr Francis, Mrs Francis and their daughter lived in accommodation on the school premises and there was a small number of boarders, strictly limited because of lack of space. An evening 'prep' session was held for those boys, supervised by a master, and day boys could attend if they wished. A general factotum was employed who was responsible for heating, cleaning and general work. He was familiarly known as 'Jellybags', though how he obtained this nickname I never knew.
A music period was supervised by Mr Edgar Lane, who was the organist at Holy Trinity Church and leader and conductor of the local Madrigal Society, as well as of other musical interests in Dorchester. He was not the best of disciplinarians and as the hour consisted of singing for the most part, boys became unruly. When Mr Lane's patience was exhausted, he would pounce on a boy, turn him out of the room and tell him to report to the Headmaster's study. The latter sanction was most unwise, since one simply went home, as it was the last period of the morning. Whether out of the kindness of his heart or through absent-mindedness from one week to another on the part of Teddy Lane, I shall never know, but nothing ever happened. To his great credit, he was a kindly man and probably had a soft spot for small boys.
In the higher forms there was a mathematics master by the name of Beachy. He was very knowledgeable, but lost control not only of the boys but of himself. From time to time he would fly into violent tempers and go almost berserk, which only made matters worse.
The Grammar School football team. Rex is standing first left in the back row.

However, over the seven years of my stay, I owe a great deal to those men who were responsible for my education. From 1909 to 1914 in the peaceful days of King Edward VII and early King George V, life was much simpler and quieter, and little did we realise that we were standing on the brink of a scientific and technological revolution the like of which the world had never previously experienced.
The First World War started on 4 August 1914. The roll of honour of those who were killed in that dreadful event contains the names of many boys who were in the same forms in my day, and some parents were to lose two and three sons from the family circle. The last two years of my life at the DGS, 1915 and 1916, could not have been easy for the Headmaster and his staff, because the younger masters were induced to obey the call to Kitchener's army and later became liable to conscription, as I did myself.
There were many changes and older men took the strain, knowing full well that they were not as qualified as they could have liked. One chemistry and physiology master named Williams comes to mind. He was most averse to giving any practical demonstrations, so he taught theoretically from the book, which was exceedingly boring for the boys. With hindsight, he was probably not too sure of himself.
Duncan Lidbury taught us mathematics at Fifth Form level. I remember one occasion when he got into some difficulty over a geometrical problem and I was able to help him out. Some years later, when I was an adult, I reminded him of the occasion and he told me that English was his subject. He undertook maths instruction by trying to keep one chapter in advance of the boys all the time, and an excellent job he made of it.
Rex aged 17 years with cups and Daily Telegraph Certificate on winning the Annual Shooting Contest at Chickerell

We used to play cricket and soccer in those days (no rugger). The playing fields were in Monmouth Road. Quite sizeable, they ran along the complete length of Culliford Road, behind the houses and gardens. When Hardye's School was built, the site was acquired for building much-needed houses.
'Frankie' used to teach the junior school the rudiments of cricket and was a great exponent of the 'forward stroke' and a 'straight bat', both of which were excellent in their way but, if you became too set, could be a deterrent to making runs. I have to confess to having fallen for the latter, but when I joined the first eleven later on, I was used to break down the bowling and did a lot of wicket-keeping, receiving two lovely black eyes on different occasions.
We used to have 'six-a-side' football tournaments for one year of which I still have a medal, having scored one of the winning goals in the final – a truly great occasion which I still remember (though my colleagues did not rush to embrace me as they do now).
The annual prize distribution was held in the same rooms as those used for morning prayers and the coveted awards consisted of beautifully bound books in dark maroon leather, with the school crest in gold leaf on the front. I was lucky enough to win four of them and they have always been amongst my most treasured possessions. There were two prizes I would have loved to have won but did not qualify. The first was the 'Dux Ludorum', consisting of about ten volumes of The Rise and Fall of the Roman Empire, but I was sadly lacking in the necessary qualifications. The second was the Pope's essay prize, one for the higher, and another for the lower school. My father knew of these awards and always insisted upon my entering. Quite a lot of work would be involved in research upon some national issue, to say nothing of the writing of the covering essay. After two or three annual efforts without success, I got discouraged but I was never allowed to give up. How wise my father was! Although I never won the school prize, the efforts I made have repaid me a hundredfold, for throughout my business and public life on many, many committees I have had to compose speeches, letters, letters of sympathy etc and those early fruitless efforts have stood me in wonderful stead.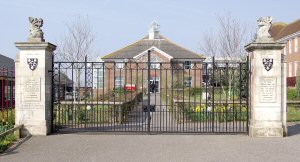 Today's Thomas Hardye School is the successor to Dorchester Grammar School. The gates are a memorial to those who lost their lives in war. Many of those who did so in the First World War would have been contemporaries of Rex Fare.