Shaftesbury and the Grosvenors
Brenda Innes reflects on the generally benevolent influence of the Grosvenor family on Shaftesbury
Published in February '07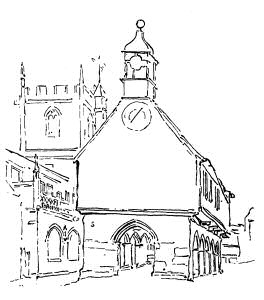 This 1791 sketch of St Peter's Church shows the type of building then prevalent in Shaftesbury. The ground floor of the 16th-century Guild Hall is obviously of stone and the projecting timbers of the first floor designed to be plastered over.
Even with the strange purchases that go on in the political world today, someone buying a town would hit the headlines, but in the headline-less early 19th century it would not have surprised the rather fewer readers of newspapers owing to the state of political representation. Shaftesbury, a typical example, still returned two Members as allocated in the medieval Parliament, while growing industrial towns like Birmingham had little or no representation.
Robert, Earl Grosvenor, was doing a natural thing as the head of a political family when in 1820 he added to his Dorset estates by buying the 400 or so premises large enough to carry voting rights that formed what had become known as the 'Property of Shaftesbury', with a view to ensuring that the Borough returned two Whig MPs of his choosing. In an infamous court case in the 18th century, an unsuccessful candidate overturned an election result by establishing that his rival's votes had been bought with bags of 'goldfinches' (gold coins). The case ruled out such direct bribery in the future.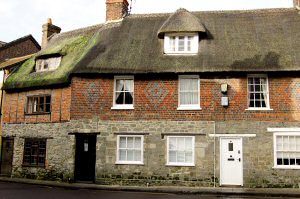 Two examples of pre-Grosvenor houses. The upper floor of the one on the left was probably originally plastered over, judging by the unsophisticated wood frame. The house on the right shows 18th-century brickwork with a pattern of 'blue headers' in locally made bricks.
Shaftesbury, Hardy's 'city of a dream', was at this time a thriving market town on the busy coach road that connected London and Falmouth: nothing dreamy about it. In fact, one of the first things Earl Grosvenor built in Shaftesbury was a replacement for the old Guild Hall which the Corporation had removed to clear the highway; they had sold the stone for road surfacing, then found that they had neither site nor money for a replacement. The town's new owner solved both problems by pulling down his buildings that stood across the top of Gold Hill and supplying from his local quarries the finely cut greensand that can be seen in the 1827 building.
In 1831, when he became Marquis of Westminster, he gave his eldest son, Richard (who had become Earl Grosvenor), Motcombe House near Shaftesbury. It was a small and unfashionable country house, but after repair and a little alteration it became and remained the favourite home of Richard and his wealthy wife, Elizabeth (daughter of the Duke of Sutherland), for the rest of their lives.
It is hard to imagine what Shaftesbury looked like when the Grosvenors first set eyes on it. Unlike Salisbury, where stone was so expensive that even the cathedral precinct wall had been made from re-used stone from abandoned Sarum, Shaftesbury actually stood on good building stone (you can see this bedrock at the bottom of the wall on Gold Hill). It seems likely that most buildings were constructed by excavating a cellar and using the resultant stone to build walls for the ground floor. On these a timber-framed, oversailing first floor and roof were constructed. However, the woodwork was not of the elaborate design one can still see in Salisbury's fine medieval buildings but was intended to be concealed with plaster and the roof merely thatched. Later on, bricks were made at Long Cross; the rose red of this particular clay and the bricks' blue vitrified end-surfaces caused by wood firing have been used to decorative effect in Bell Street.
The Grosvenors were getting richer by the minute as money flowed in from their West London estates, but Richard turned out to be remarkably parsimonious: accounts show income from his Shaftesbury property nicely balanced against expenditure on it. He was no 'developer' but a prudent landlord who kept his property in good repair. Some sites were rebuilt, but only when the existing building was worn out or otherwise unsuitable. A large house in St James, described as 'Tudor' and occupied by a gentleman in the early days of Grosvenor ownership, was used for tramps in the 1832 cholera epidemic and thereafter replaced by workmen's cottages.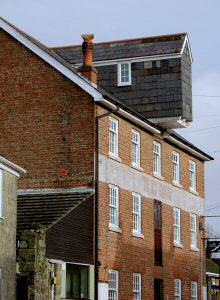 In Barton Hill the Marquis built a pumping station with this fine grain store in front of it, which has now been converted into flats. The adjacent tank, used to cool water for the steam pumps, has long been Shaftesbury's open-air swimming pool.
The Grosvenors moved in Royal circles and Richard was influenced by Prince Albert's campaign to build good working-class housing so, although St James was obviously becoming a less high-class area, the sturdy houses he built when he opened up a foetid closed court he bought from a Mr Andrews demonstrated both the Prince's moral aims, with the three separate bedrooms for parents, boys and girls, and also health aims: the ventilators on the roofs are still there. This is now Pump Court, which has been known as 'St Andrews Yard' and on one document as 'Grosvenor Square'!
Richard inherited his father's marquisate and the vast family estates in 1845, but his interest in Shaftesbury continued and the agents he employed there, unlike his father's who were political ones and deeply unpopular, lived there and were good. By this time Shaftesbury had less political value anyway as the 1832 Reform Act, of which Richard was rather surprisingly a supporter, had left it with only one MP and a far wider electorate. The Marquis was an approachable landlord and responded to the suggestion that the poor needed a free water supply by providing a deep well on Barton Hill with a steam engine to pump free water to all parts of the town. The traders of the town needed a market hall, which the Marquis provided, with corn market at the High Street end and produce market at the other end in Bell Street, where it faced the open cattle market he laid out, now Bell Street car park. The produce market survives as the Arts Centre's theatre!
Repair and improvement to the building stock continued and the 2nd Marquis opened a new brickworks on the Gillingham side of his land which produced a bright orange brick contrasting pleasantly with the soft green of the greensand. Some later buildings, however, were full-blooded mid-Victorian polychrome brick, in particular the purpose-built ironmonger's shop at 35 High Street and 'Paladwr Villa' in Bleke Street, built for wealthy Shaftesbury families. Nearby in Victoria Street, and demonstrating the range of buildings supplied at this time, is a pair of tradesmen's cottages which had purpose-built stables and workshops: one was originally occupied by a family who were carriers, the other by a builder.
Shaftesbury has a character usually found in estate villages rather than towns: bricks carry the 'W' stamp, as do good thick floor tiles, while all over the town are cast iron windows of a particular pattern almost certainly made in the town somewhere as local tradesmen were always supported. Another puzzle is that, although when sites were re-developed the new buildings were given tiled roofs, there was no overall replacement of thatch. Perhaps the town's owner thought his support of the fire brigade was sufficient!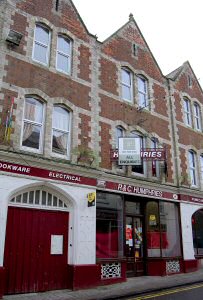 This fine mid-century shop was built for a Victorian ironmonger and remained in that trade until last year
Building continued after the death of the 2nd Marquis in 1869 with the Westminster Memorial Hospital built by the Dowager Marchioness and their youngest daughter, Theodora. No bright brick was used here, as perhaps they considered stone more fitting? The schools they supported were also stone buildings. When the Dowager Marchioness died in 1891, her youngest son, Lord Stalbridge, inherited Shaftesbury. It is said that the huge brick pile with which he replaced his parents' modest Motcombe House nearly bankrupted him. Perhaps that is why a row of shops in the High Street was never finished?
In 1918 Robert Grosvenor's great-grandson, together with many other aristocratic landlords, sold his estates in Dorset and, again, a whole town was put up for sale. Bought by a Londoner, it was re-sold to a consortium of three Shaftesbury men: the local doctor, the innkeeper at the Grosvenor Arms and the manager of a grocer's shop. In 1919 they held the famous 'Sale of Shaftesbury' in which, over three days, most tenants bought their own houses and shops. Shaftesbury took over its own destiny with the more vigorous citizens campaigning to retain the benefits bestowed on the town by the Grosvenors: waterworks, parks and allotments.
Shaftesbury people also defended their town in the 1960s against wholesale redevelopment, so it retains the unique character given to it by the Grosvenors over a century. Unfortunately, although a lot of Shaftesbury's buildings are in protected conservation areas, when listing was introduced in the 1950s, not many Victorian buildings were considered worth saving. As a result, the later Grosvenor buildings may soon be altered or even demolished: a pity, as they have survived very much as originally built for nearly a century and a half and would be a great loss to Shaftesbury's unique character.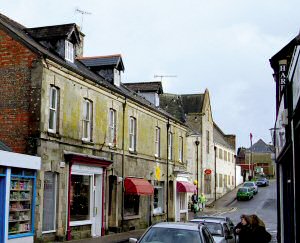 This row of shops with good-class accommodation for the shopkeeper was begun by Lord Stalbridge but never finished, as can be seen from the toothing in the stonework and the brick wall that was never intended to be seen. The rest of the site never had any substantial building on it, but Shaftesbury's first cinema, a somewhat flimsy structure, was here.