'Mr Swanage'
George Willey has not only been writing about Swanage for over 50 years but taking part in most of its activities as well. John Newth has talked to him.
Published in January '07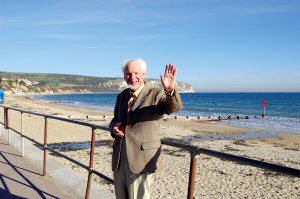 George Willey at home in Swanage

No gathering in Swanage is complete without a slightly stooped, grey-haired figure whose twinkly eyes, square face and goatee beard give him something of the look of a benevolent gnome. His well-modulated tones and infectious laugh identify him at once as George Willey, who has been both recording and making news in Swanage for the last 54 years. He would never be immodest enough to claim it for himself but if anyone has a right to the title of 'Mr Swanage', it is he.
Surprisingly, it all began not in Swanage or even in Dorset but in Newport, South Wales. His father became manager of the gas works there after service in the Royal Marines and marrying a Welsh girl, but he himself came from Southern Ireland and George can still remember his grandmother's broad Irish brogue. George won a scholarship to Newport High School and regrets that the classical education that he received there is not more widely available today. 'It is natural for me to lapse into Latin at moments of stress or excitement,' George says with perhaps a touch of the blarney inherited through the paternal side of his family, 'especially as I was brought up as a Roman Catholic and served as an altar boy. When I say Grace in Latin at Rotary or other dinners, my fellow-diners tend to be infuriated, embarrassed and intrigued in equal measure.'
After National Service in the Royal Army Service Corps – 'I wanted to go into the Welsh Guards but they said that with my education it had to be a clerical job in the RASC' – the place he had won at Cardiff University seemed less attractive, so he got his first journalistic job on the South Wales Argus. From there he spent three years as chief reporter on the Durham County Press before coming south, still in his early twenties, in 1953. 'Swanage was intended to be a staging-post on my way to London where my ambition was to be a political correspondent,' he recalls, 'but I settled down here and discovered that it was my natural home.'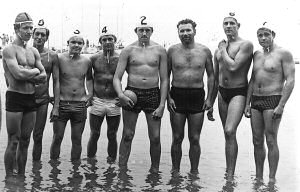 The Swanage water polo team on Studland beach in 1959. Left to right: George Crane, Gilles Remy, Phil Bird, Mike Bond, 'Sully' Sullivan, George Willey, Richard Caldwell and Alan Vince.

George's job was to run the Swanage Times, part of the Poole & Dorset Herald group, which sold more copies per week than there were households in Swanage. He had an office near the railway station, looking down Station Road, the office itself being a converted guardhouse hut from the World War I encampment on what is now the Ballard Estate. He covered not just Swanage but the whole of Purbeck, travelling by bus or, if he was going to cover the magistrates' court in Wareham, hitching a lift in a police car should one be going that way. In time, the Swanage Times was gobbled up like so many small-town newspapers and today George finds himself writing for Southern Newspapers through the Swanage and Wareham Advertiser.
His contribution to the Advertiser is the Tilly Whim column, which he started in the Swanage Times in 1955 to help fill space because there was not always enough news to fill the old broadsheet newspaper. 'My first column was about horses which were hired out on the beach and which had just been allowed to return, having been banned because of objections to what one might call their digestive habits.' Can any other columnist claim an unbroken record of 50 years? George even wrote in opposition to himself during the brief life of a rival paper, the Purbeck Independent, for which he wrote a column as 'Old Harry', under which name he took the occasional side-swipe at his alter-ego, Tilly Whim.
George's work brought him into contact with the many celebrities for whom Swanage was a fashionable holiday destination in the days before the jet set had been thought of. They ranged from historian Arthur Bryant to actress Googie Withers, who had been brought up in Swanage and whose father had a boat in the bay, and from Peter Finch to Enid Blyton, who came to Purbeck most summers and owned the Isle of Purbeck Golf Club. She could be somewhat imperious and, when she asked George to have a photographer cover any activity she was undertaking, it was more in the nature of a command than a suggestion.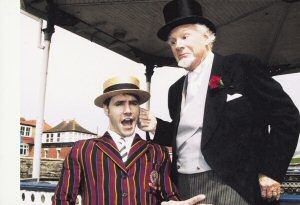 As Mr Shalford in Swanage Choral and Operatic Society's recent production of Half A Sixpence, putting a recalcitrant Arthur Kipps in his place

It is quicker to ask George which organisations in Swanage have not had him as a member rather than those which have. 'Well,' he explains, 'I always was rather a clubbable fellow and if you join one thing in Swanage, you tend to join another.' In his younger days sport was a passion, from which the swimming, sailing and rugby clubs all benefited. A past chairman of both Round Table and the 41 Club, he is also chairman of the Christmas Festivities Committee and President of the local United Nations Association. Regatta Week would not be the same without his mellifluous phrases booming over the town from the public address system – he is president of the Regatta and Carnival as well as announcer. He is a hands-on president of the Choral and Operatic Society, too: it is only a couple of years since he played Mr Shalford in its production of Half a Sixpence, the latest in a long line of roles with the society and with the Purbeck Players.
On a different plane, George has been president of the Chamber of Trade and, for the last 43 years, secretary of Wareham, Purbeck and District Licensed Victuallers' Association. 'My only connection with the licensed trade was as a customer,' he says, 'but I went to report one of their meetings and the secretary didn't turn up so they asked me to take notes. Then it was put on an official footing and I was paid 20 guineas a year.' The job includes going to court on licensing matters and representing the area's views to the head office of LVA when there are major political issues like the recent changes in the licensing laws.
Such service to the community – particularly when you add in time on the Purbeck Tourism Group, the South Purbeck Task Force (a watchdog organisation run by the police) and the Drugs and Alcohol Advisory Board and as a governor of Purbeck School – goes well beyond being just 'a clubbable fellow' and it is doubtful if anyone has ever worked quite so hard for the good to the town.
The organisation where George's clubbability and sense of service come together most notably is Rotary International. He was not only president of the local club on two occasions but became district governor for the region covering Dorset, Hampshire, the Isle of Wight and the Channel Islands. In addition, he travelled often to Rotary International headquarters in Chicago, where he was a member of its public relations committee and a founder member of its International Task Force.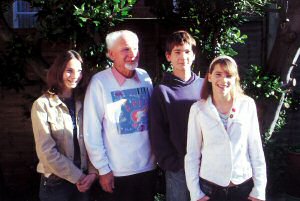 George with the triplets: Alice, Ted and Georgia Burridge

In 1962, George heard through his connections at the swimming club of a girl who had been spotted by a fisherman a couple of miles out to sea. When he finally met her, she made a deep impression on him – and not just for her swimming. He knew that she was one of the many foreign girls who came to work in Swanage during the summer, so addressed her in French, which was unfortunate since she was in fact German. Despite this inauspicious start, he and Beata married the following year. There followed one of the most successful periods in the swimming club's history now that Beata qualified to compete for them, but a more lasting result of the marriage was two children, Wolf and Katina. Wolf has been a successful actor – and, briefly, the landlord of the Red Lion in Swanage – and now specialises in teaching stage fighting. Katina teaches at St George's, Langton Matravers, and has four children, including triplets now aged 12, who as babies would be pushed round Swanage by their proud grandfather.
Talk to anyone in Swanage about George Willey and they will probably mention first his bonhomie, his quick wit or his longevity as a writer. But to concentrate on those is to do less than justice to his considerable intellect or to his deep knowledge of the town and affection for its people. 'In the 1950s the town was run by a council full of interesting and colourful people,' he reminisces. 'They ranged from stiff-necked, dyed-in-the-wool Conservatives to fishermen and builders. Many of those gave up their winter job and became boatmen and I did a bit of that myself, sitting up in the front of the boat and giving a commentary as we went along the coast. The tourist trade has changed, though, because then visitors would come for a week or a fortnight whereas now they are on day trips or short breaks.
'When I came here, perhaps two-thirds of the people in Swanage had been born in the town. You could stand at the school gate and most of the children spoke with a distinct Dorset burr, but not now. We badly need to find more light industry to stop our young people moving away, but in physical terms, I hope that the town will not develop much more than it has already. It has little architectural merit but it has character, and that's worth preserving.'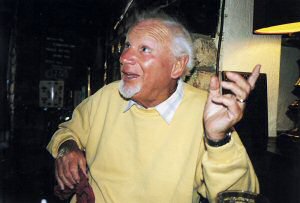 George Willey in typical pose: alert, interested –and holding forth