Dorset thoughts from abroad
Richard Lewington, the outgoing British Ambassador in Ecuador, writes on what he loves and has missed about Dorset during three years in a distant and very different country
Published in January '07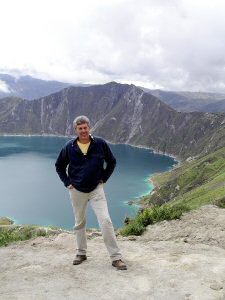 Richard Lewington at Ecuador's equivalent of the Blue Pool – Quilotoa Volcano Lake
My passion for all things Dorset began in my teens as a Boy Scout, when two of us had to trek through the Isle of Purbeck to gain our special hiker's badge. I recall clearly the amazing view over Poole Harbour and the coast round to Bournemouth as we tramped along the ridge of Ballard and Nine Barrow Down from Old Harry Rocks to Corfe Castle. And I was impressed by the quarries and the sea waves crashing on the rocks at Dancing Ledge. Studying the Thomas Hardy 'Wessex' novels for 'A' levels, and reading about the world of Wessex he created, made me want to know the county better and so I began walking the county footpaths.
After I joined the Diplomatic Service, overseas assignments far from Britain in Central Asia and South America took me and my family a long way from Dorset. So I decided that if I couldn't be in Dorset, I would take it with me. That was how I began to collect old books on the county. Every time we came home on holiday to Britain, I would drag my wife around the second-hand bookshops from Lyme Regis to Shaftesbury and Dorchester in search of bargains.
I always head for the 'Topography – Dorset' section. In the 1930s and again in the 1950s after the War, as private motoring expanded, there was a surge of interest in exploring the counties of Britain and a wealth of guide books and armchair companions were published. My first purchases were called Rambles in Dorset, published in 1931, and a first edition of Out Of Doors in Dorset, published in 1932. But my real treasures are a copy of Where Devon Meets Dorset from 1911, about Lyme Regis and the Marshwood Vale, and The Old Stone Crosses of Dorset from 1906. This is by Alfred Pope, who came from a long-established and well-known Dorset family. That one took me several years to track down and the search led me to a friendship with the author's grandson, Christopher Pope, a lovely man from Dorchester who sadly died a while ago.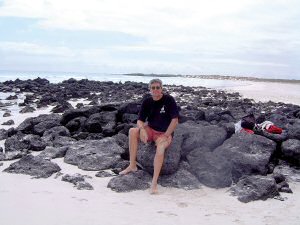 The author on the Galápagos Islands. Studland Beach seems a long way away!

I have well over 50 books now and on a rainy night (and in Ecuador you can't have tropical rainforest without torrential rain!) I like to sit by the fire and dip into them and read a chapter or two. Then I replay in my mind a favourite walk, say over Nettlecombe Tout to the sandwich tin with the notebooks at the Dorsetshire Gap (maybe one day I will get to meet the benefactor who brings so much pleasure to the walkers who pass through), or retracing the walk of Tess Durbeyfield along the ridge above Batcombe and on to Beaminster.
As a walker, I love poring over maps (another skill learned as a Boy Scout) and so I began to collect Dorset editions of those fine county maps – Saxton, Thomas Moule, Greenwood and Pigot – which have been published over the centuries and have become very popular. They have been hanging on the wall of my study at home in Quito. The internet has made it easier to buy books and maps without my wife catching me spending all my pay, but the map sellers and bookshops around the county still know me pretty well!
British embassies abroad, like the one I have been running in Ecuador, are regarded as sovereign British territory by the host government. British law applies and the premises are given diplomatic immunity. So when I got my first job as an ambassador, I said to myself, 'Well, if this embassy is British territory, then the ambassador's office will be Dorset!' And anyone from Dorset visiting Ecuador could drop in for a cup of tea!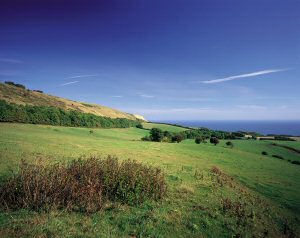 '…we tramped along the ridge of Ballard and Nine Barrow Down…'
As well as taking Dorset with me, sometimes Dorset found me. Two years ago, a group of Dorset teenagers came to Ecuador for an adventure training expedition. The teenagers were sponsored by the Dorset Expeditionary Society based in Weymouth. The DES does a fantastic job, giving young people from the county the chance to challenge themselves and learn leadership and life skills in physically demanding locations. They climbed Cotopaxi volcano, the world's highest active volcano, which I can see through my 'Dorset office' window – Ecuador has five active volcanoes, several of which have erupted within the last three years. It was good to meet them and to tell them a bit about life and conditions in Ecuador. The DES subsequently asked me to be a patron of the Society, which I greatly appreciate as it will give me a strong link with the county now that my time in Ecuador is up.
Working in the 'Dorset office in Ecuador' also allowed me to wangle membership of the Society of Dorset Men, even though strictly I didn't meet the residence requirement. I put out a standing invitation to any member of the Society to look me up if they ever found themselves on the Equator!
Dorset also came to Ecuador one more time in my final year as ambassador, with a visit from the well-known Dorset-based explorer and expedition leader, Lt Col John Blashford-Snell, whose Scientific Exploration Society is located at Motcombe, near Shaftesbury. 'Blashers' is keen to help disadvantaged communities in the countries he explores, so the SES and the British Embassy will be working in partnership on a project to bring clean drinking water to isolated communities in Ecuador's Amazon region. (You might think it strange that safe water is scarce in somewhere like the Amazon rainforest, but the high water table and flooding means deep wells have to be drilled and of course remote villages often cannot afford this.) I am glad I have been able to help set up something for the future which will maintain the Dorset link with Ecuador after I have left.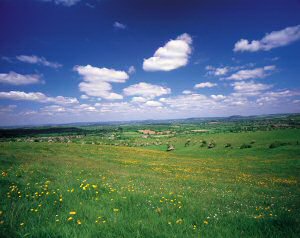 '…planning the first of many long walks through the Blackmore Vale.'
What have I particularly missed about Dorset? Well, sometimes I could kill for a cream tea! When my two children, who both went to schools in the county, were small, we learned on one summer holiday near Eype how to slice a scone deftly into three pieces to maximise the cream and jam you could cram in. I still believe the best Dorset cream tea is in a small tea shop in Chideock, but I am open to counter-claims from Dorset Life readers. And I missed the walk on a warm summer afternoon to Eggardon Hill, where you can gaze out over the Marshwood Vale to Golden Cap and Lambert's Castle and marvel at the sun glistening on the English Channel. Turn round and there is the contrast between wooded Lewesdon Hill and bare Pilsdon Pen. Round again and you can make out the radio masts on Rampisham Hill. Funny to think that when I listened to the BBC World Service in Ecuador it may have been broadcast from Rampisham.
After our time in Ecuador comes to a close, becoming a real Dorset resident is firmly on the agenda. Then I will be brushing the dried mud off my walking boots, digging out the Ordnance Survey maps and planning the first of many long walks through the Blackmore Vale. Now that is another thing about the county I am really looking forward to – a pint of beer and a warm welcome from the landlord in a friendly pub after a long day's ramble. There's a really traditional place I know in Hazelbury Bryan….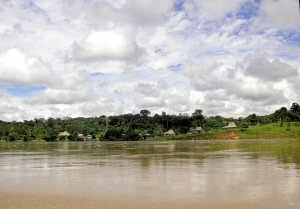 Zanuido, one of the Ecuador villages that will be helped by the Dorset-based Scientifc Exploration Society's drinking water project