Dorset Lives — A sort of magic
Dorset-born Paul Hyland is in the front rank of poets writing today and is generous in sharing his gifts. John Newth has been to meet him.
Published in November '06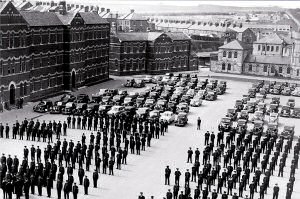 Special Constables on parade at Dorchester in 1955
Hell Stone
(Portesham)
See how the tall stones lean together,
how each one kisses the capstone,
how the glorious body is laid within
accoutred and accompanied by wealth.
Watch how the boulders and flat stones
are heaped up, how earth is tamped down
to make the hollow hill where a king sleeps.
When I see the green mound I will recall this.
But I dreamt it naked, saw it stripped bare,
the kissing stones a sieve for the wind,
the hill's womb empty; and in the dream
I knew myself too to be unremembered.
Paul Hyland
from Art of the Impossible (Bloodaxe Books, 2004)
When Paul Hyland was growing up in Parkstone in the 1950s, his bedroom window overlooked Poole Bay, which is bounded to the west by the almost-island of Purbeck and to the east by the real island of Wight. It was appropriate, if not inevitable, that his first two published books on places should be about those two islands, Purbeck: The Ingrained Island being an indispensable volume in any serious library of Dorset books. The best travel writing is about more than the place which is its ostensible subject and it is evident from every page of Purbeck that its author is not only a sensitive and knowledgeable observer but a poet.
Looking at the reputation that Paul Hyland has established today as a writer of both poetry and prose, it is unexpected to learn that he failed 'O' level in English Literature and History at Canford. Not surprisingly, he opted for the sciences in the sixth form, but even scientists had to endure – as he initially saw it – one compulsory English lesson a week. His teacher for that lesson was called Andrew Davis, who shared his enthusiasm for literature with the class and, as Paul puts it, 'all the lights went on in my head as far as reading was concerned.' He soon began to produce his own writing and Andrew Davis was an early and valued critic.
It was science that Paul read at university, though – botany and zoology with philosophy – and he is grateful that he did. 'Because of my scientific background, perhaps I bring a different kind of view to travel writing from someone with just an artistic eye. It gives me a degree of objectivity and I am also meticulous about facts. I may err on the pedantic side, but the journeys about which I have written have been so rich that I didn't need to depart from the facts.'
After university Paul lived in Hertfordshire and London, doing some teaching but also writing poems which began to find their way into print in publications from obscure poetry magazines to the New Statesman. A breakthrough came when a TV play, Black Bird Shout, was accepted and shown on BBC2 in 1976. The BBC's then Head of Drama encouraged Paul to write more, but a second play was about to go into production when a very similar work by a more established TV name appeared on ITV and the project was cancelled. Understandably, Paul was discouraged by this experience and has not written for TV since, although he has written a number of BBC radio scripts and features.
However, Black Bird Shout did bring him to the attention of literary agents, with whom he discussed the book he wanted to write about the Isle of Purbeck. Not only could he see Purbeck from that boyhood window but it had been an integral part of his early years; at first he would go there with his parents and later he would take the ferry on his own and spend days exploring the hills, heathland, coast and villages. 'Purbeck gave me my education,' Paul remembers now, 'and I wanted to write a book that would create a journey and draw the reader into that special place'
Paul gave the proposal for Purbeck to his agent on a Monday and by the Thursday she had sold it to Gollancz, who were publishing a series of books about places, written by poets. It pleased Paul that his father, who had awoken his interest in places, saw the book published before he died. Paul followed up Purbeck with Wight:Biography of an Island and is the author of further books about a trip up the Congo River, travels in Andhra Pradesh (Indian Balm, recently re-published) and a journey through Portugal, along the River Tagus. Purbeck is still in print, though now published by the local firm, Dovecote Press.
When Purbeck was published, Paul was still living in London and teaching part-time. In the 1980s he moved to Devon to become administrator and then director of the Beaford Arts Centre, which stages arts events throughout 1000 square miles of North Devon. One senses that he does not regret the experience, but it was a full-time job which paid less than part-time teaching in London and, more importantly, left him no opportunity to write.
This was significant because by now his reputation as a poet was growing and his first book of poetry had been produced by Bloodaxe Books, who have published his poetry ever since. That first book was Poems of Z, which elaborately created a whole fictitious life for an Eastern bloc spy who was working in England and was the purported author of the poems. 'Although there is some autobiography in Poems of Z, I found it a liberating experience to write in a different persona and to put my poetry into a totally different context,' says Paul, 'It was performed on Radio 3 by Maurice Denham, who found things in it that I had not realised myself were there.'
Further books with Bloodaxe followed, most recently Art of the Impossible, a collection of Paul Hyland's poems from 1974 to 2004 from which it is fascinating to trace his development. 'I think my earlier work was more difficult,' he muses, 'and I didn't value accessibility as much as I do now. My poetry is relatively formal and observes rules, even if they are rules I have made up myself. I think those restrictions are helpful: if you dam a stream, you can generate power from it.'
Paul stayed in Devon after leaving the Beaford Arts Centre but returned to Dorset ten years ago. Thus it is local writers who have benefited most from his generosity in working with others and sharing his expertise. A project called 'Write Up Your Street' with Dorset Library Service led on to work with Artsreach, including 'Land Writes' and most recently 'Island Voices' from Portland and Purbeck. All these projects involved workshops and seminars at which anyone could take their first steps in writing or develop their gifts with Paul's guidance.
This work has taken Paul beyond the borders of Dorset. He has done residencies at Aldeburgh and in the ironstone mines of Cleveland, where he found parallels with the quarrying and clay-mining industries on Purbeck, and which is the only place where he has held poetry readings while wearing a hard hat! He is also the author of Getting into Poetry, regarded as essential reading for budding poets.
An increasingly important aspect of Paul's work is collaboration with other artists. He has worked with the composer, Helen Porter, botanical artist Sally Pinhey and fellow-poet Sean Street among others. A significant and mutually productive association is with Brian Graham, the Purbeck-based artist, for whose exhibition catalogues Paul has written poems and who has created paintings inspired by Paul's work.
Paul Hyland's life continues to be a varied one. He is a professional magician whose act, Art of the Impossible, shares its name with the title of his most recent book of poetry. He is a prose writer whose latest work, Ralegh's Last Journey, moved into biography and who has been invited to write the authorised life of a major 20th-century poet. Yet these different activities are not contradictions: a poet can bring a special perception to places and people, and who can say that poetry as memorable as Paul Hyland's is not a sort of magic?