Poole and the birth of the chemical industry
Dr William Sheldrick explains how the exploitation of copperas at Poole was the earliest example in England of continuous chemical processing
Published in August '06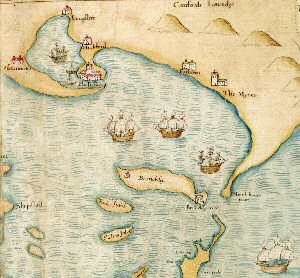 A map of Poole Harbour in 1586. The reference to 'The Mynes' refers to the production of copperas.
Although the words 'copperas' and 'alum' mean little to most people today, in the 16th and 17th centuries they were important raw materials, particularly in the textile industry where they were used in dyeing. The manufacture of copperas and alum represented a major change from other local industries of the medieval period. It involved continuously operated chemical processes over several years, so it needed considerable planning, financial investment and infrastructure. The production of copperas and alum in the 16th and 17th centuries is therefore now widely regarded as the beginning of the English chemical industry. This industrial revolution began in Dorset, with the production of copperas in Poole and subsequently alum in Kimmeridge.
Copperas is hydrated ferrous sulphate, also known as green vitriol. It occurs naturally in small quantities but is usually manufactured. In chemical terms, alum is a group of double salts that most commonly contain aluminium sulphate and potassium/ammonium sulphate. Alum is rarely found naturally and has to be manufactured by a range of processes.
In the 15th and early 16th centuries, copperas and alum were valuable cargoes traded into England, mainly through monopolistic Papal sources in Europe. There was a considerable trade between Europe and south coast ports to satisfy the needs of the cloth-producing region of the West of England. The increasing Papal control of imported alum and copperas resulted in higher prices and became unacceptable to Henry VIII, who tried unsuccessfully to negotiate a more satisfactory arrangement, and then to Elizabeth I, who resolved the situation by encouraging the search for domestic resources.
The first large-scale plant to produce copperas in England was in Parkstone, Poole, in around 1564. Ancient records from the Canford Estate indicate that in 1535, alum in the form of naturally occurring greenish crystal deposits was being recovered from Durley Cliffs near what was shortly afterwards known as Alum Chine. It is highly unlikely that true alums in a natural form existed in the cliffs between Bournemouth and Poole. Based on its physical description and the geological nature of the cliffs, the deposits being exploited were most probably native copperas, or melanterite as it is also known today.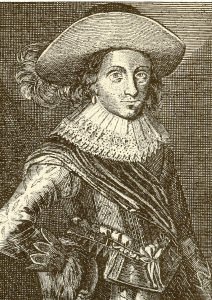 James Blount, 6th Lord Mountjoy, the first producer of copperas in England
In 1558 James Blount, 6th Lord Mountjoy, then 24 years of age, inherited two-thirds of the manor of Canford and the manor of Puddletown. He is described as experimentally minded and ingenious, a confirmed dabbler in alchemy, financially reckless and doubtfully honest. He was already heavily in debt because of a lavish lifestyle, costly military service and law suits over his inheritance, and he was obliged to mortgage most of his property. The manor of Canford included a large area of heathland stretching along the eastern shore of Poole Harbour, towards what was later to become the town of Bournemouth, and extended about six miles inland to Wimborne Minster. The manor was already enjoying benefits from copperas recovered from Durley Cliffs and Mountjoy reserved the right to search for alum and copperas on the Canford Estate, convinced that these hidden mineral resources would resolve his financial problems. Around 1564 he started to mine and process shale at Parkstone from which he produced copperas.
Apparently his activities were successful and in 1565 he wrote to William Cecil, the future Lord Burghley, then Secretary of State and later Lord High Treasurer of England, to tell him that the recovery of copperas was profitable and the business was growing. He was also hopeful that the recovery of alum would develop likewise. A second letter followed shortly afterwards to the same statesman, in which he begged the Queen to advance him £6000 and undertook to deliver 150 tons of alum and 150 tons of copperas at the end of two years. A monopoly on the manufacture of alum and copperas was conferred on Lord Mountjoy for 21 years from April 1567, subject to one-tenth part of the proceeds of his works being paid to the Queen.
Within a few years there were two works at Parkstone: Okeman's House and Canford Launds. There were works at Boscombe, Brownsea Island and Alum Chine. Although Brownsea Island was outside the territorial limits of the Canford Estate, Mountjoy had leased land there and at Boscombe.
There is little evidence to suggest that any alum was ever produced in Poole in significant or profitable quantities. Mountjoy remained ever confident that it would be and spent considerable money on equipment and bringing experienced workmen from Italy to help him in his quest. Although considerable copperas was produced, the income from its sale was not enough to cover the expense of mining it and the additional cost of trying to produce alum. Mountjoy fell further into debt and the manors of Canford and Puddletown were heavily mortgaged.
In 1570 the manor of Puddletown and two-thirds of the manor of Canford were bought by Henry Hastings, 3rd Earl of Huntingdon. Huntingdon, like Mountjoy, hoped that he might improve his fortunes by operating the mines, but Mountjoy had reserved the right to operate these himself. There followed a long period of legal action and although Mountjoy died in 1581, still heavily in debt, the legal conflict carried on under his son, William, Lord Mountjoy. One of the legal documents in 1583 includes an inventory of the operation on the Canford estate, and the materials recorded give no evidence of the production of alum.
The bitter dispute was finally settled in 1586, when the Earl of Huntingdon was declared the rightful owner of Canford and the mining rights, but he was required to pay William, Lord Mountjoy, £6000 as compensation for his claims. During this legal wrangling, mining on the Canford estate continued and the mines were leased to various operators.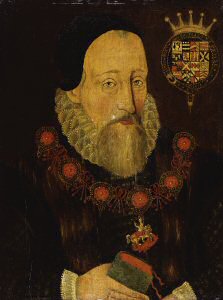 Henry Hastings, 3rd Earl of Huntingdon and Mountjoy's deadly rival
In 1571 the Secretary of State (Lord Burghley) was convinced by a young adventurer, William Smedley, that copper could be produced from copperas and a number of prominent people invested in the project. One of the mines was leased at £400 per year to provide the necessary copperas and large sums were advanced to Smedley to carry out the transmutation. After several years without success, the project was abandoned and Smedley imprisoned.
Henry Hastings, 3rd Earl of Huntingdon, died in 1595. He had spent considerable money on developing the mines but failed to realise his ambition of finding a rich source of alum. The industry in Poole declined in the next decade and most of the existing plants closed. There is little reference to the production of copperas or alum in Poole for another fifty years.
Copperas production was resumed on Brownsea Island around 1665 by Sir Robert Clayton, who owned the island, but finally ceased in 1704.
The copperas industry in Poole is an important part of Poole's industrial heritage but unfortunately little of its history has been recorded. Poole Harbour Heritage Project (PHHP) is studying this history and has successfully submitted a Project Outline to English Heritage for financial assistance for Bournemouth University to carry out a Design Study dealing specifically with the archaeological content of the study.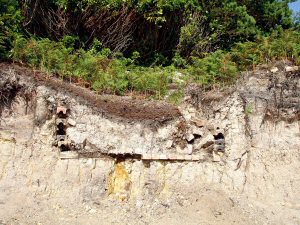 The remains of a copperas plant on Brownsea Island, probably part of the evaporator