Discovering lost Dorset's recreations
Discovering Lost Dorset, Rodney Legg's selection of 350 photographs from his huge collection of images of the county's past, vividly recalls a vanished world. This selection shows the people of Dorset
Published in August '06
'Sociable' tricycle and riders from Christchurch at the finger-post on Balmer Lawn – 7 miles from Beaulieu – in the 1880s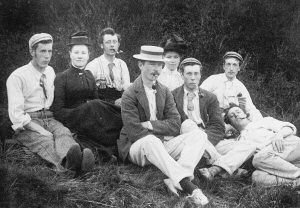 Six men and two ladies, freshly out of a boat, having rowed down the Stour from Wimborne to Avon Beach, Christchurch, with skipper Ernest Brett in July 1892
Strip and swim was the morning ritual for the boys of Durnford School, Langton Matravers – watched by headmaster Thomas Pellatt – into the sea from Dancing Ledge in 1898. Later, Pellatt had quarrymen blast out a pool in the rocks of Dancing Ledge for his pupils to swim.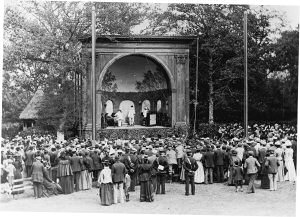 The Theatre in the Larmer Grounds, opened to the public without charge by Lieutenant-General Augustus Pitt-Rivers in 1898, when there were 40,712 visitors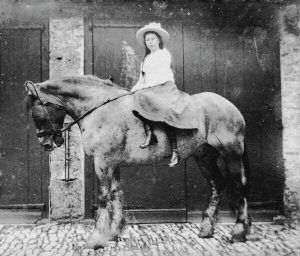 Margaret Bond on 'Punch'. She was the youngest sister of Ralph Bond, owner of Tyneham House when it was taken over by the Army in 1943. She was born in 1892, so this picture dates from the early 1900s.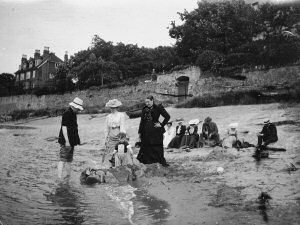 Mrs Mary Bond (second left) and family from Tyneham House below Rockleigh at Peveril Point, Swanage, on an incoming tide in 1903. Mary was Ralph and Margaret's mother, married to William Bond of Tyneham House.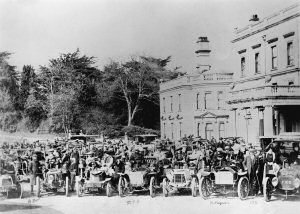 Lord and Lady Alington stand beside the 24-horsepower Leon Bollee FX2 (right), hosting Dorset Automobile Club's rally at Crichel House in May 1906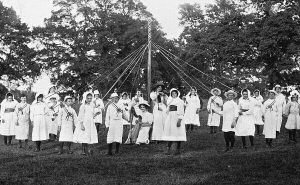 The Glanvilles Wootton maypole in 1909, with violin and harp accompaniment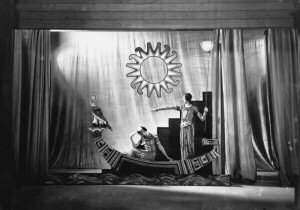 Mary and Hilda Spencer Watson (right) holding the stage in the Little Theatre they constructed in a barn at Dunshay, Worth Matravers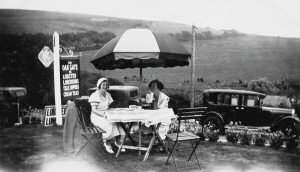 Satisfied customers at Mrs Susan Hardy's Oak Gate tea gardens, Osmington Mills, in 1936