Literary Bridport
The Bridport area has been home to an extraordinarily diverse range of writing talent, catalogued here by Roger Guttridge
Published in June '06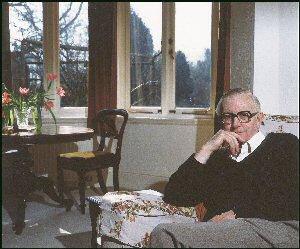 Tom Sharpe lived in Bridport for some years. Surely none of his more outlandish characters could be based on people in the town?
'The shepherd on the east hill,' wrote Thomas Hardy in the opening lines of his short story, 'Fellow-Townsmen', 'could shout out lambing intelligence to the shepherd on the west hill, over the intervening town chimneys, without great inconvenience to his voice.' The chimneys belonged to Port Bredy, Hardy's name for Bridport, a community which had 'jammed itself in the valley' to form 'a veritable town, with a real mayor and corporation, and a staple manufacture'.
Hardy is the most famous of a remarkable number of writers whose prose or poetry has been inspired by this setting or who have chosen to live there. The locally-based crime novelist, Andrew Spiller, author of thirty thrillers between 1945 and 1960, provided some Hardyesque place names in Phantom Circus (1950), describing the road that 'switch-backed in from Melchester to the east' and the 'no less humpty-dumpty' one that 'wound in from Carne Regis to the west'. Bridport itself he calls 'Burport, nestling in its green and lovely valley in the same way that it had done for centuries.'
John Milbrook not only felt no need to change Bridport's name for his novel of gipsies and murder, published in 1930, but actually used it in the title, A Bridport Dagger. The phrase is drawn from the town's age-old association with rope-making: someone who ended his days in a hangman's noose was said to have been 'stabbed by a Bridport dagger'.
The prolific and long-lived Devon author, playwright and poet Eden Phillpotts (1860-1962), who numbered Agatha Christie among his biggest fans, set his 400-page novel The Spinners (1918) at Bridport, which 'stretches itself luxuriously from east to west beneath a wooded hill', and 'Bridetown' (Burton Bradstock), which 'lies near the sea in a valley under a range of grassy downs'. Elizabeth Renier, also a prolific novelist from Devon, set Yesterday's Mischief (1975) against a backcloth of fishing and rope-making in late 18th-century Bridport. Frederick Harcourt Kitchin, writing as Bennet Copplestone, used the area in his adventure story The Treasure of Golden Cap (1922). Political events in Bridport of the 1870s provided the inspiration for local writer Dave Mort's self-published historical novel Money for Old Rope (2005).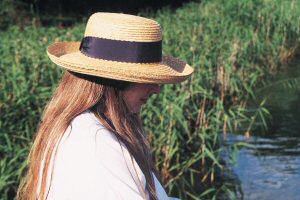 Caroline Stickland has built up an enviable reputation as a romantic novelist
In recent decades, the area has been something of a magnet for novelists. Tom Sharpe moved to St Andrew's Road, Bridport, with his wife and daughters in 1978, by which time he was working on his ninth novel. The first of these farces, Riotous Assembly, based on his years in South Africa, was published in 1971, but more than a dozen titles later, Blott on the Landscape remains the most famous, aided no doubt by the BBC's television adaptation in 1985.
The novelist and linguist, Christopher Dilke, who died in 1973, retired to Whitchurch Canonicorum and wrote a play, Legends of St Wite, for the village's 900th anniversary festival. His novels included The Rotten Apple (1968) but his most important work was Letter to a King, a translation of Peruvian chief Guaman Poma's first-hand account of life under Incan rule and the Spanish conquest. Dilke's daughter, Lucy Pinney, who now lives near Honiton, is the author of the autobiographical A Country Wife, which includes an account of her years in West Dorset.
David Ralph Martin, once a scriptwriter for Z Cars and Dr Who and creator of the Doctor's robotic dog, K9, is now a Bridport-based novelist whose recent crime thrillers include Dead Man's Bay, Dead Man's Slaughter and I'm Coming to Get You.
The best-selling novelist, Rosemary Ellerbeck, whose pseudonyms include Nicola Thorne, moved to Chideock from Sturminster Newton a few years ago but recently moved on to Plymouth. Margaret Graham, teacher of creative writing and author of short stories, features, writers' handbooks, a community play and a dozen novels, including Canopy of Silence and A Bed of Roses, lives at Burton Bradstock. The award-winning Caroline Stickland lives at Bridport and sets most of her novels in 19th-century Dorset. Her first book, The Standing Hills (1986), was short-listed for both a Betty Trask Award (winning a £1000 runners-up prize) and the Georgette Heyer Historical Novel Prize, while her sixth novel, The Kindly Ones, was short-listed for the Parker Romantic Novel of the Year in 2001.
Terry Harknett, who lived at Burton Bradstock for fifteen years before moving to his present home at Uplyme, has written 177 novels, including more than 100 westerns under the best-known of his several pseudonyms, George G Gilman. Most were published between 1962 and 1989. Gilman's heroes include Edge, Adam Steele and The Undertaker.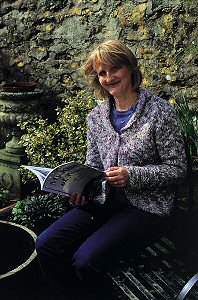 Caroline Stickland has built up an enviable reputation as a romantic novelist
Bridport author Leslie Scrase, a humanist celebrant and former chauffeur to celebrities and politicians, has written books on such diverse topics as family history, religion, humanism, coping with death, poetry and travel as well as children's stories and three autobiographical novels, An Evacuee, A Prize Pupil and A Reluctant Seaman.
L S (Laura) Matthews was able to become a full-time children's writer after her first book, Fish, an adventure novel of aid workers, refugees and a fish fleeing a war-torn, drought-stricken country, was picked up by Hodder Children's Books, who then negotiated rights in America for a record advance. Fish, nominated for the Lamplighter Award, has been followed by The Outcasts, A Dog for Life, which was Ottakar's book of the month in January 2006, Deadly Night and The Game. Symondsbury husband and wife team Lis and Jim Coplestone are, respectively, the writer and illustrator of the children's books Sunshine and Storm (2001) and Noah's Bed (2004). Maggie Avery joined the massed ranks of published Bridport authors at the age of 61 in 1999 when Minerva Press produced The Diary of Iris Bud, described by the Bridport News as the 12-year-old 'female equivalent of Adrian Mole'.
The same newspaper's former editor, Margery Hookings, published her first book, My Kind of Town, in 2005. It charts 150 years of news in the town.
John Eastwood, of Burton Bradstock, wrote local history books and a historical novel, The Dorset Highlander. Arthur Lincoln's A Methodist Doctor in Ye Olden Time, described as a 'true story for boys', is an undated but probably Victorian biography of physician and evangelical Methodist, Dr Giles Roberts. Born at Bridport Harbour in 1766, the innkeeper's son survived a bizarre punishment at the age of three, when an angry maidservant lowered him down a well in a bucket! The barrister and Bradpole vicar's son, A M Broadley (1847-1916), was also an author and historian, best-known for his writings on Napoleon and his collection of 330 works on the French Emperor. He co-authored Three Dorset Captains at Trafalgar (1906) with R G Bartelot.
Antiques Roadshow presenter Paul Atterbury is the author of books on antiques, pottery and railways, and has also written or edited local books on West Bay, Eype and Abbotsbury. Bridport golf writer and cartoonist George Houghton's forty books include Golf Addicts on Parade (1959) and Golf and the Stranglehold (1986), which recounts his golfing encounters with such famous people as the future King Edward VIII, President Eisenhower and Marlene Dietrich.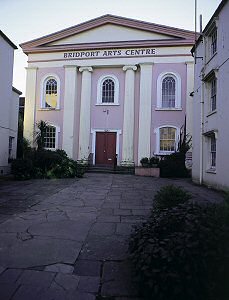 Bridport Arts Centre, home to the Bridport Writing Prize
Elizabeth Lawrence, of Chideock, wrote two books about the mysterious past of the American child diarist, Opal Whiteley (1897-1992), whom she tracked down to a Hertfordshire mental hospital in the 1950s. Whiteley, who had described her childhood in an Oregon lumber community, claimed she was really Francoise Marie de Bourbon-Orleans, daughter of the pretender to the French throne.
Chef Mark Hix, head of the Caprice restaurant group, who was brought up at Bridport and did his early cooking at West Bay, is the author of Fish Etc: The Ultimate Book for Seafood Lovers. Bridport's Anne Sheasby has written a dozen cookbooks with a healthy eating bias. They include The Ultimate Healthy Eating Cookbook, The Big Book of Bread and The Big Book of Sauces.
Richard Connaughton, of Powerstock, is a noted author of historical books whose subjects range from military conflicts in the Far East to Britain's VE celebrations and the story of Omai, Captain Cook's 'noble savage'. Bridport undertaker, document conservator and fiction writer Tim Nickels is the author of The English Soil Society, a collection of 21 highly original stories described by one commentator as 'the weirdest collection you are likely to read'.
As the home of the Bridport Prize, the world's biggest open English language-creative writing competition, it is not surprising that the town has also spawned or inspired a healthy crop of poets. The 19th century Dorset dialect poet William Barnes wrote on Bridport Harbour. Peter Foote, who was Bridport's larger-than-life Mayor at the time of his premature death aged 47 in 1986, published a book called, simply, Poems. Bridport barman Mark Woolner has published both a poetry book, An Eyelid Ghost, and an account of a walking tour of the Dorset coast and its pubs, A Toast to the Coast. The Daborn Dossier 1992: Portrait of a Cricketer and a Cricket Season is a book of cricketing poems by John Surry, of Burton Bradstock. David Bushrod's Marshwood Vale: The Complete Dorset Poems (1995) is a volume of descriptive poetry inspired by the writer's 'deep love of the Dorset landscape'. Patrick Ross published a volume called Verses, while Michael Norman's work includes three volumes of poetry, The Bride of Dorset (1983), A Place to Lie Down: A Dorset Ballad (1992) and We Would Sit Down: A Dorset Idyll (1994). Occupying the ground between literature and music are political singer-songwriter Billy Bragg and the innovative rock star P J Harvey, who was brought up in the area and now lives part-time at West Bay.