Bettiscombe Open Gardens
Chris Shaw and Colin Varndell enjoy a varied day in the gardens of a village on the edge of the Marshwood Vale
Published in June '06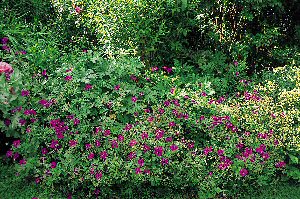 Geranium 'Ann Folkard', a good, spreading perennial, at Bettiscombe Manor
There is no better way to spend a Sunday afternoon than by visiting a garden, with a cup of tea and slice of home-made cake completing your enjoyment of the fruits of someone else's labours. Many individual gardens open under the National Gardens Scheme, with distinctive yellow posters and a posse of visitors clutching the 'Yellow Book' shouting loud that it is Garden Open day, pleasure guaranteed.
A grander scheme has blossomed, however: that of whole village undertaking to have some – or all – of its gardens open at once.
Bettiscombe, close to the Dorset/Devon border, has been doing it for years, with the scale of the undertaking far in excess of the size of a village with a population of less than one hundred. What they lack in numbers, though, they make up for with detailed planning and enthusiasm. A day out (the gardens are usually open from 10.30 am until 5 pm) is full and satisfying. The proposed date is broadcast on local radio stations and posted on several websites including that of Dorset CC. Bridport Tourist Information Centre, too, can provide details.
On the first Sunday in July I headed west through Bridport, equipped with an OS map to help me find Bettiscombe, which is delightfully off the beaten track. I needn't have worried. It was well signposted and even without my map I could hardly have gone wrong. Despite arriving almost at opening, I was far from first. I was marshalled efficiently into a large car park, where the number of vehicles already present signalled an event whose fame has spread.
Plant stalls were an immediate draw. Valley View offered herbs and lavenders; Elworthy Cottage Plants lived up to their name; Potwell Nursery was obviously a well-established local concern; while Derry Watkins from near Bath, who specialises in the unusual, had packets of seeds selling well. Carrier bags of purchases were helpfully put aside ready for collection later in the day.
There were six gardens to visit and I started with Bettiscombe Manor, a house of friendly scale with wide open views at the front. Lady Caroline Conran had made available to visitors the rear walled garden, where fig trees spaced along an herbaceous border at least three metres wide were surrounded by generous clumps of large perennials including alstroemeria, thalictrum and day lilies. A small arbour was smothered in clematis. In the lawn, an old tree had Rosa 'Veilchenblau' scrambling up through its branches. This vigorous rambler bears large clusters of small flowers, violet streaked with white, and fills the air with its fruity scent on a warm day. A Jack Russell terrier tolerated the visitors, provided he was kept busy racing after a thrown tennis ball. In a range of outbuildings, potter Tim Hurn and artist Aviva Halter-Hurn had mounted a joint exhibition.
Strolling back towards the car park with the sun determinedly breaking through, I found the entrance to the second open garden, Mrs Penelope Hobhouse's Coach House, where a massed display of lilies and agapanthus in terracotta containers were perfectly placed on the gravel forecourt. A plant stall manned by RD Unusual Plants was causing a diversion by displaying a huge container of Roscoea purpurea, a member of the ginger family, which had everyone reading the label and stopping to buy. It is a real eye-catcher, a tuberous perennial that grows best in part-shade and moist soil. The flowers are hooded, like orchids, and since this plant comes from the Himalayas and China it is used to a cool climate. It will survive the winter outside if planted deep, but a mulch is always a good insurance policy.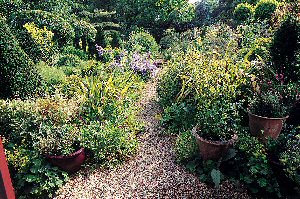 The Coach House, an interesting mix of formal and informal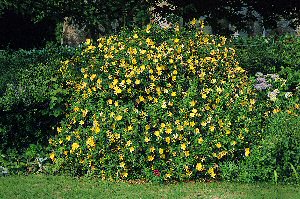 Hypericum 'Hidcote' at Church Cottage
I had expected the unexpected in a garden planned by a designer of Mrs Hobhouse's reputation and was not disappointed. Formal clipped hedges in a froth of flower meadow; a slim rectangular pond with stainless steel edge echoing the arch through to an adjacent walk; raised plant beds in close proximity, where pushing through released the warm, damp scents of summer. A walled garden at the rear of the house featured planting in abundance, green spilling across gravel in an apparently random rampage that belied the underlying scheme. Cubes of snipped hedge, arches of roses, waves of catmint, plumes of grass, petals, stems and seed heads, thousands of strands woven into a tapestry of colour.
Church Cottage was totally different: a small and unassuming patch, lovingly tended and pretty with delphiniums, pinks, roses, valerian and pansies. The cottage was playing a vital role at the head of the production line for ploughman's lunches, constant demand in the nearby village hall emptying the trays as fast as they appeared.
Parson's Gift, opposite, was evidence of Mrs Jo Jones' skills as a gardener over the last ten years or so. The beautiful copper beech and sinuous pergola of the front garden still did not prepare me for the breathtaking effect of the raised terrace at the rear, looking down across steep lawn to an outstanding view of Dorset countryside. Tall trees formed a backdrop to a beautiful border where old favourites such as yellow Rosa 'Graham Thomas' rubbed shoulders with the sword-like leaves of salmon and lime phormiums. To cope with the fall of the ground there were dry stone walls supporting beds of small conifers, azaleas and alpines. Railway sleepers and gravel curved into a generous flight of steps.
Further down the lane I found Conway House, where Henry and Mary Smith had not only opened their garden but also their garage, in the shelter of which welcome refreshments were being provided. Here, too, the garden merged into landscape. A salmon-flowered phygelius was scrambling up one of the house walls. More usually seen in an herbaceous border where it gets cut back by frost each winter, this South African evergreen makes a good wall shrub if given a suitably sheltered position. Hypericum, phlomis, cistus, dogwood, choisya – all were banked into pleasing beds and borders which contrasted well with individual trees and flowering yuccas growing as specimens in the lawns.
This garden also provided the feature I voted my 'good idea for the year': two upright panels of trellis with one panel joining them overhead, a line of broad beans growing in the centre, runner beans clambering up the panels, a row of frilly lettuce on one outside edge and beetroot on the other: a decorative, productive patch no more than about eight square feet.
It was just a step, then, to the ice-cream van and bus stop, for a short journey to Revelshay Farm. With all the steeply sloping ground and wide views, I kept wondering why no-one had formed a ha-ha. They had at Revelshay, making the perfect break between formal and informal. Spires of delphiniums, clambering roses, wigwams of sweet peas, vivid clumps of chalcedonica, the burgundy, plum and white of sweet williams – there was a lot to see and enjoy.
The shuttle bus was an absolute bonus, making this garden on the outskirts of the village easily accessible. Robin, the driver, explained that it was a charity bus especially adapted for disabled people and was well-used in the Axe valley. It is one of the good causes that receives a donation from Bettiscombe Open Gardens, as well as St John's Ambulance, the village hall and the parish church. Nearly a thousand visitors resulted in takings of around £6000 and even after expenses, that's a very worthwhile piece of fund-raising.
My day ended back at the Coach House, where the Trinity Opera Choir entertained with folk songs on a garden theme. 'My love's an arbutus' was an obvious choice. It was a phrase from a John Ireland song, however – 'How constant are the hills…' – that seemed so apt for Bettiscombe itself.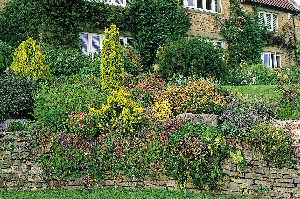 Terracing copes beautifully with the fall at Parson's Gift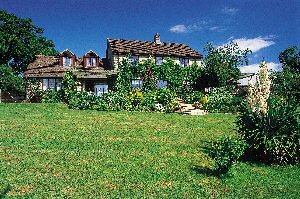 Conway House, with shrubs spilling down to the lawns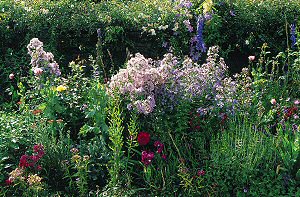 Herbaceous border at Revelshay Farm