The Wimborne Folk Festival
A performer's tale, by Anne De Ville
Published in May '05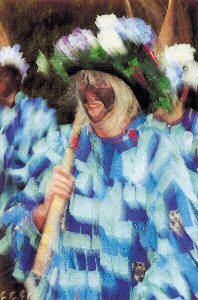 'Smile, spin, shout and stamp': the author in a whirl
Is it me, or does the whole town smell of sweat?
We're at the Wimborne Folk Festival. It's late on a blisteringly hot Sunday afternoon but the crowd can't get enough; the pavements are still five and six deep with spectators enjoying the show. A good many teams have melted away in the heat, but Exmoor Border Morris is made of sterner stuff. Despite the discomfort of our thick, raggy jackets and top hats heavy with flowers, we're about to dance again. After all, isn't this what our winter practices in a freezing village hall are all about?

We've had a wonderful day at Wimborne, performing our mock-battle Border Morris dances through the narrow, winding streets of the old medieval town, with many a stop for liquid refreshment. It's not difficult to conjure up the sights and sounds of a time when battles were fought here for real. King Ethelred had a devil of a job keeping the Danes out of his beloved Wessex, and on his untimely death in action, his brother, Alfred (of the burnt cakes), succeeded to the throne. Ethelred was buried somewhere on the site of Wimborne Minster and Alfred is documented as standing, grieved, at the side of his grave, aged only twenty years. One can only wonder at his thoughts.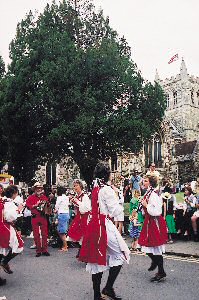 Dancing in the shadow of the Minster
But today, Wimborne is literally revelling in its alterego, and I'm seeing this genteel Dorset town as an old gal relieved to slip off her corsets – but only for the weekend, mind! It's all a far cry from times, not so very long ago, when four Wimborne men were publicly punished 'for playing unlawful games – Coytes [Quoits?] – on the Sabbath'. Now, this Sunday, dancing can be on the streets! There's something to please everyone, from the simplest and sweetest of arrangements to clog dancers hurtling out a routine reminiscent of their native Lancashire mill machinery, itself long since silent.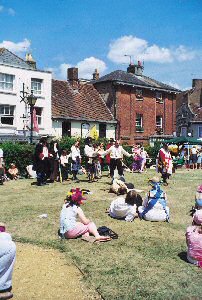 A moment to rest and watch the mummers on Minster Green
I love the way exclusive little shopping precincts and cobbly courtyards have transformed themselves into ethnic bazaars and open-air studios. Here you can choose jangly beads and bracelets, silver rings and gauzy scarves, joss-sticks and tie-dyes. You can have a new tongue stud, your hair braided and a henna tattoo. But hurry! Tomorrow, only ball gowns and costly coffees will be on sale here.

A one-man-band has attracted an enthusiastic audience. He's great fun, but it's nothing new, you know! Some 1300 years ago, someone who was the Country and Western singer of his day might well have stood in the very same spot. He was St Aldhelm and was none other than the Bishop of Wessex. That must have been just the day-job, because he was far better known as a man who 'walked the Dorset countryside and gathered a crowd by making music on his lute and singing songs and skilled in communicating with common people'.

Apparently, Aldhelm was blessed with a lively sense of humour, too, and his riddles – all the rage at the time – were much admired. Like to know what was rolling 'em in the aisles in 700 AD?
Q. 'Once I was a water full of scaly fish;
My nature changed, by changed degree of fate.
I suffered torments, torrid by the flames;
My face now shines like whitest ash or snow.
What am I?'
A. 'Salt. Made by the evaporation of seawater.'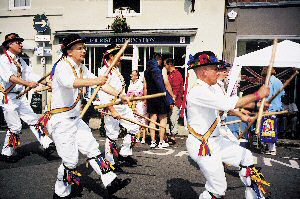 One way of progressing down the High Street
Hurrah for the fairground set up outside a supermarket, hiding the concrete monster behind a merry-go-round of prancing horses and towered over by a peppermint-striped helter-skelter. Couldn't there always be hoop-la, Punch and Judy and coconut shies here? Let's feast every day on hot dogs and greasy fried onions, with candy floss and toffee apples for pudding…but I'm forgetting that all this will be gone tomorrow. At least we can always peep at paradise – the elegant river flowing slowly past the trolley park – and turn our backs on the unattractive modern arcade foisted on this end of town.

There's nowhere you can circumvent the influence of Wimborne's greatest glory, the Minster – and who would want to? You are welcome to take refuge from the heat of the day within its tranquil walls, or rest awhile on the spread green skirts of the grassy verges. Today, young families with bonneted babies, elders, tourists, brightly-plumed dancers and musicians picnic quietly on the slopes, each little group at one with the occasion.

But those attracted to magic and mystery are drawn to the dark alleys criss-crossing the outer grounds of the Minster. Lit with a guttering sea of candles, their wafts of hot, scented air disturb any number of wind-chimes into hypnotic rhythm. But I am not soothed. Can I hear the screeching, smell the blood, sense the excitement of the cock-fighting that took place in these lanes until comparatively recent times?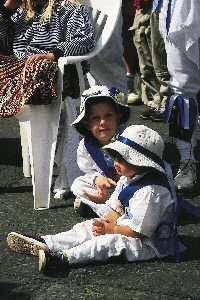 The festival is for all ages
In the velvet air of a tented booth, I peer at a tattered book of Dorset folklore. It's nearly a century old and I wonder if the long, long list of contributors are any the wiser now as to the truth of their omens and superstition. We shall never know. I could linger here and gaze into a crystal ball; my cards could be read or my future revealed, but I've had enough and come out into the light with a deep sense of relief.

Somewhere in the distance thunder is grumbling away. I marshal my wild thoughts and try to concentrate; our last dance is a tricky affair. Other teams have gathered to watch – no extra pressure here, then! Tension always mounts in the seconds before a dance, whether it's a prestigious occasion like now, or in some damp Devon hamlet with an audience of one man and his dog. I glance at my team-mates and I can see they're exhausted. Sweat is trickling down my back – I might have danced this routine a hundred times, but you're only as good as the moment. The foreman nods to the band and they strike up…six, seven, eight…DANCE!

Smile, spin, shout and stamp; clash sticks, throw them high – don't drop one for heaven's sake! Dozy-doh, duck and dive, weave a hey, spin partners, circle back to place. It's over. As one, we look at the foreman. He's smiling widely. A perfect performance, then. We bow and doff our hats to the crowd. The applause is long and sweet, as indeed our pints of shandy will be.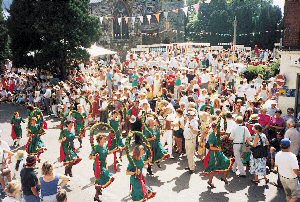 The crowds pour into Wimborne for the weekend of the festival