Dorset lives — A keen eye on Dorset
John Newth has been to meet novelist Sarah Challis
Published in January '05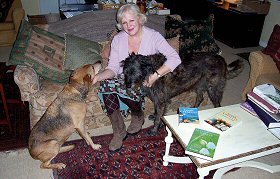 With Daisy and Duff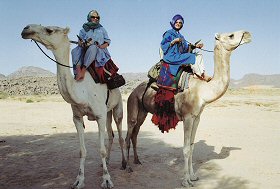 Sarah with her regular travelling companion
Diana Fletcher,
on their camels in Mali
A few days after Sarah Challis had posted the typescript of her first novel to a literary agent, she realised th at she had forgotten to enclose the return postage. In a flurry of apologies she telephoned the literary agent, who replied, 'Don't worry – I don't think return postage will be needed on this one.' The agent, Felicity Bryan, was right: within a week she had sold the book to Headline and had launched Sarah on a career which now spans four novels, with a fifth due out in the summer and a sixth just begun.
'I had always felt more comfortable writing things down,' Sarah told me, 'and didn't find it a big step from that to writing a novel.' That's a statement which may surprise anyone who has tried to write a book, but Sarah went on, 'When Headline gave me a two-book deal, I was terrified at first, because unlike almost any other business, when you're writing a book, your only resource is yourself.' She admitted that she still finds writing a chore, 'especially when you're getting you characters to where you want them to be. I always try to write 1000 words a day and sometimes find myself checking the word count to find out whether I can stop yet. When I'm writing the more involving parts, I'll write much more, and I even find it easier to do some of the more harrowing episodes – but they tend to stay in my mind more when I have finished writing for the day.'
That first novel, Killing Helen, took Sarah a year to write in odd moments while she was still working as a senior housemistress at Sherborne School for Girls. Before that, she had been in Scotland for fifteen years, teaching English and running the sixth-form girls' house at Loretto; her husband, Jan, an academic mathematician, was working mostly at Edinburgh University. 'We loved Scotland but I was always looking forward to moving back south and Dorset has proved a wonderful choice,' she said as we talked in the comfortable drawing-room of her house in Stourton Caundle. 'I enjoyed Sherborne, too, but with Killing Helen accepted and my youngest son at university, I felt it was the time to make the step into full-time writing. Jan, who now works in London for the Royal Bank of Scotland, was very supportive.'
It was a case of 'moving back south' for Sarah because her childhood was spent in Stoke Poges, Buckinghamshire. It seems incredible to her now, but she attended St Paul's as a day girl: an hour and a half's journey each way every day. The fact that Stoke Poges is not far from Pinewood Studios is no coincidence, as her father was the famous film cinematographer and director of photography, Christopher Challis, who worked on films from The Red Shoes to Chitty Chitty Bang Bang. Sarah spent her school holidays on location all over the world. 'It sounds exotic and exciting, but I must admit that at the time I would have preferred to have had a more conventional life at home,' she says now.
Sarah Challis at work
If her life away from school was unlike most of her class-mates', perhaps that explains why all her novels have a character who is something of a misfit. 'Misfits are always the most interesting,' she believes, 'and I myself have never been able to identify with any particular group.' She admits that Maeve in her second book, Turning for Home, is based on a girl whom she once taught – 'I adored her, but she just didn't know how to conform' – while Jena, a little gypsy girl, is one of the most memorable characters in Blackthorn Winter, her third novel.
All four of the novels are based in Dorset, which Sarah observes with a keen and sometimes sardonic eye. For example, every Dorset village has a bossy, nosey character like Julia Durnford in Blackthorn Winter (although she does come good in the end) and the description in that book of a 'kitchen supper' given by the Durnfords is hilariously accurate. Nor does Sarah pretend that country life is all roses round the door and bright sunlight on thatched roofs. Whether it is the result of dogs getting into a chicken run, a horse ripped to pieces by barbed wire or the harsh economic realities of life on a struggling farm, no punches are pulled and her books are the stronger for it.
A recurring theme is the conflict between town and country and in Sarah's fourth novel, On Dancing Hill, a young woman has to choose between a successful, glamorous life in London, including a (literally) urbane boy friend and the ultimately irresistible call to return to her roots in Dorset. 'I find the contrast between town and country very interesting,' Sarah explains. 'It's particularly relevant at the moment, when I think the gap between the two has never been so great.' It is evident from her writing where her feelings lie and she says, 'Dorset is such a deep-rooted county and so many families have been here for generations. They may have limited horizons in terms of experience but often there is huge wisdom and perspicacity there.'
This helps to explain, too, her sympathy towards older people like Valerie Pomeroy in Blackthorn Winter and George (a countryman to boot) in On Dancing Hill. 'We won't see the like of that generation again,' says Sarah. 'They went through a war and showed amazing stamina and courage.' She recently lost her own mother, but her father still lives independently in Sherborne. In the next generation, Sarah's four grown-up sons reflect the breadth of the upbringing they received, working respectively as a doctor in Devon, as a banker with Schroders in Mexico City, as an expert in Islamic art and with the BBC Russian Service.
Horses figure largely in all four of the novels, having always been part of Sarah's life. Jan not only goes out with the Sparkford and Blackmore Vale every week in the season but is still riding in point-to-points although he and Sarah are grandparents twice over. While Jan is in London, Sarah is kept company by three rescue dogs: a whippet/Doberman cross, a deerhound cross and a Labrador.
Not just horses and dogs but, more surprisingly, camels. When Sarah stopped working at Sherborne, she achieved a long-held ambition to visit Sinai, to experience the Bedouin way of life and to learn more about the desert. It was all she had hoped for and since then she has been to Morocco, Syria twice and Mali twice, riding out on camels into the desert on trips that few Western women would undertake. She has attended camel races beyond Timbuktu – 'the atmosphere is just like at a point-to-point' – and had a camel named after her in Syria. Her next adventure will be to explore the Erg Mountains in Niger.
Publishers' publicity departments are notoriously unimaginative. Killing Helen was originally promoted as the then fashionable 'chick lit'. Now, they refer to Sarah's work as being in the same genre as Rosamunde Pilcher or Joanna Trollope. Neither comparison is accurate: Sarah speaks with her own voice and uses it to bring the people of the Dorset countryside to life in a way that no novelist of recent years has done.
[On Dancing Hill is out in paperback this month. Sarah's new novel, Jumping to Conclusions, will be published in the summer.]